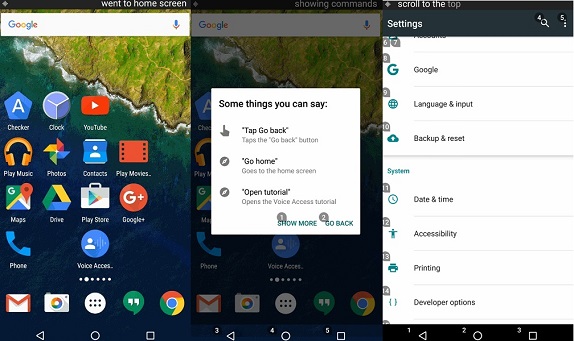 Google has announced the launch of Voice Access in beta. The app as the name suggests, allow users to control their Android smartphone through voice. 
By using Voice Access, users can give voice commands like "go home," "scroll down" or "open Chrome". You can swipe across your screen, open apps, and send messages all by using your voice. The new feature relies on the same tech behind the "Okay, Google," hands-free commands which needs to be enabled from settings. To make navigation easier via voice commands, Voice Access app places a series of numbers around apps on your screen so you can tell the device to tap a certain number and go ahead with the interaction. This feature sounds useful as you don't need to worry about correct pronunciation of a certain app.
Google said that the service is aimed at users with disabilities such as hand tremors or paralysis. The beta version of the app was available in the Play Store by a beta sign-up process, but at the time of writing this article, Google said that all of the beta-tester positions have been filled. 
In other recent accessibility news, Google launched an easy to use 'Accessibility Scanner' for Android that analyzes apps for accessibility issues. You can now use your voice to edit & format in Google Docs with a series of new voice commands.