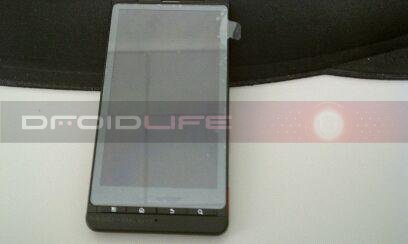 The Motorla DROID Shadow/Xtreme had made it's last appearance in a Verizon Wireless gym. Here are the new pictures of the phone along with some new information.
This time the leaked pictures also include a shot of the side of the DROID Shadow/Xtreme. It highlights the slim waistline of the phone.
The new information we have regaring the phone is:
9 Home Screens, No Moto BLUR UI
Dedicated Camera Button
Metal Design
The features include:
8 Megapixel Camera with HD (1280*720p) Video Recording
4.3″ Touchscreen
Android Froyo 2.2
HDMI Port
Snapdragon Processor
16GB Internal Memory
The phone seems to have a very good build quality especially because of the metal parts. It was rumoured to have a QWERTY keyboard earlier and from the picture of the side, it does seem like it has one. If it does, Motorla deserves appreciation for having stuffed all of that into a small body.