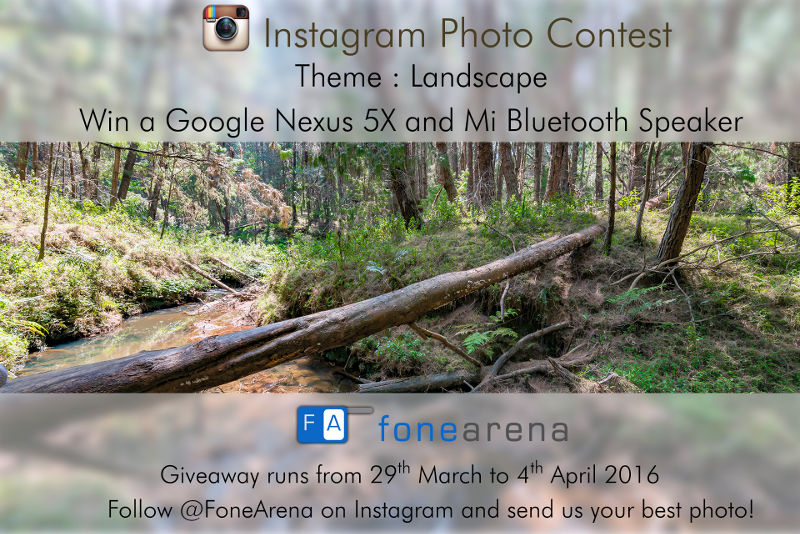 We at FoneArena love photos and we know that there are quite a few talented readers of ours as well who are good at photography. This contest will allow you to showcase your skills and in return, you stand a chance to win prizes as well. Read on to know more.
The first Photo Contest Giveaway will run between 29th March and 4th April 2016 (11:59PM IST). The theme for the first contest is Landscape and all entries have to adhere to the theme in order to qualify. There will be a winner and a runner up who will win based on the photo itself and will not be subjected to a lucky draw. The winner will receive a Google Nexus 5X, while the runner up will receive a Mi Bluetooth Speaker.
Here are the rules and regulations of the contest which much be followed strictly:
All photos have to be taken on smartphone cameras and have to be taken on or after the official date of commencement of the contest. (This will be verified in the EXIF information later on)
Cropping and editing is allowed but only within the phone and only tweaking the image. No photo manipulation or addition of objects allowed.
Photos that are uploaded to Instagram need to have a minimum resolution of 1080p on the longer side.
Entries have to be uploaded to the user's personal page on Instagram and the user has to share the link as a direct message on FoneArena's official Instagram account.
Only one entry per user is allowed
Users also have to tweet the giveaway article through their personal handle.
All aspect ratios are welcome and letter-boxing is not advised unless the image has been captured or cropped to that effect.
Any entry that is submitted after the deadline will not be taken into account.
Entrants who have been shortlisted will have to submit original files for inspection of EXIF information. Failure to do so will result in omission from the contest.
By submitting an entry to the contest, the entrants agree to have their photo posted on our social channels with his/her handle mentioned in case he/she wins.
Judging will be done by members of Team FoneArena on the basis of composition, technique, subject/object etc.
Asking for exchange, invoice of the gift, getting into arguments or abusing FoneArena team will disqualify you
Update: Winners of the Instagram photo contest have been announced.
Important terms:  No employees of FoneArena or their family members and people connected in setting up this giveaway is permitted to enter the giveaway. Winners will be announced within 15 working days after giveaway gets over. Gifts will be dispatched within 60 working days after the winning notice. Winners have to respond within 7 days to claim their prize. If a winner does not respond within the period, a new winner will be chosen. Asking for exchange, invoice of the gift, getting into arguments or abusing FoneArena team will disqualify you. This promotion is in no way sponsored, endorsed or administered by, or associated with, Instagram, Facebook, Twitter, YouTube or any other Social Network.