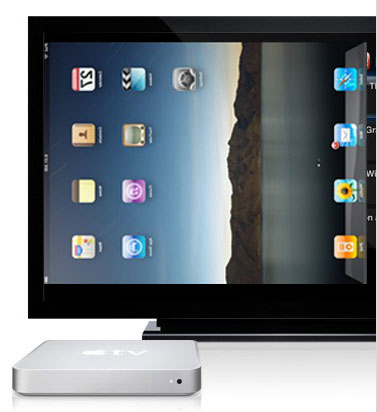 When GoogleTV was announced earlier this month , most of us were wondering why Apple never took AppleTV seriously. Apple has admitted that it was a hobby project.But now things are set to change with next version of AppleTV.
If you are wondering what AppleTV is head here. Now Engadget is giving us some interesting news that Apple is working on the next version of the AppleTV product which will be running on iPhone OS and use similar hardware found in latest iPhone and iPad aka A4 Processor.  It will use a cloud based storage which might be the next version of MobileMe.
And the best part of this rumour is that the price tag of this AppleTV is expected be just $99 which will enable it to beat any previous sales records of Apple products.
Interesting Features
iPhoneOS
Apple A4 CPU
16GB memory
Video and Power ports
1080p video playback
Cloud storage.
Connect to External Hardrive like Timecapsule
$99 Price
Wow the battle between Google and Apple has moved from Web to Mobile to TV .
Are we excited ? Hell yeah !
Expect Android and iPhone to hit the Large Screens this year. What a giant leap for Mankind !