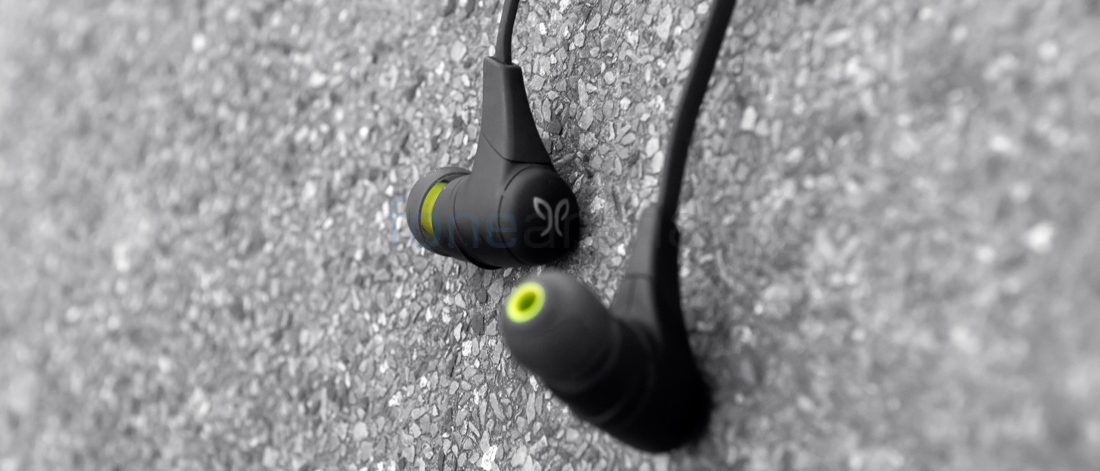 A good pair of wireless earphones or headphones is hard to come by, especially those that are portable and hassle free. Even if they do so, they most likely compromise on the audio quality. The Jaybird X2 seems to be a solution to both these issues. Let's dive into the review to see what it offers.
Unboxing
We have already done the unboxing of the Jaybird X2. You can watch the video below:
httpv://www.youtube.com/watch?v=LZ6U5AoOm5o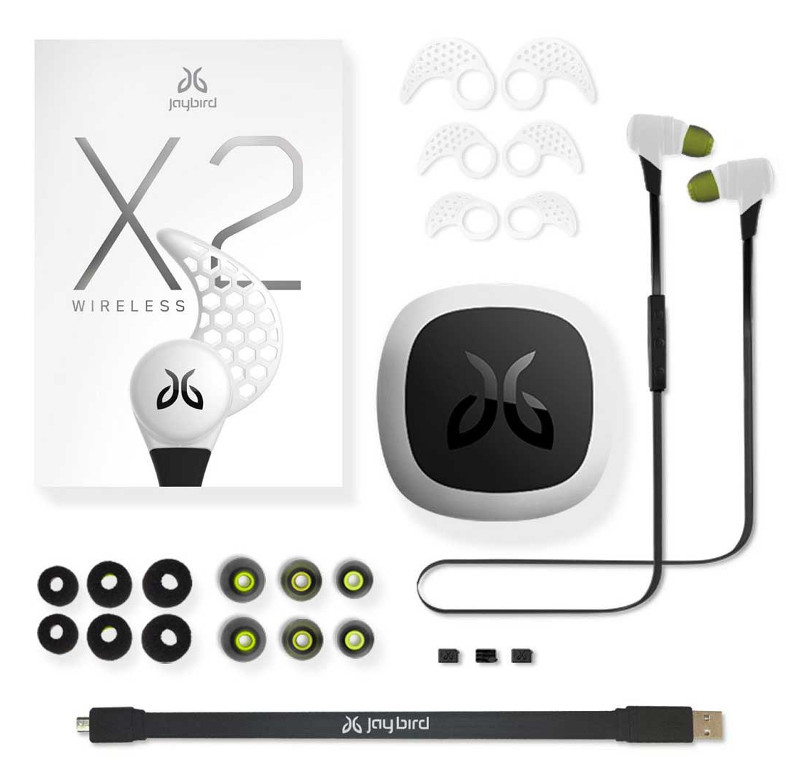 The contents of the box are:
Jaybird X2 Bluetooth headset in Midnight Black color
Carrying Case
Micro USB cable
Premium Sport Memory Foam Ear Tips and Silicone Ear Tips (S, M, L sizes)
Secure-Fit Ear Fins (S, M, L sizes)
Cord management clips
Design and Build Quality
The Jaybird X2 as around the neck design that basically relies on a cable that connects to both the ends of the left and right earphones. This cable is non-removable and manages to keep both the earphones connected and secure. It is a tangle free flat cable that makes sure that no matter how you put it in your pocket or pouch, it will still come out without getting tangled. (Note – Although it can go into your pocket and come out tangle free, there is still a chance of damaging it and so we would recommend putting it in the case that is provided with the earphones itself)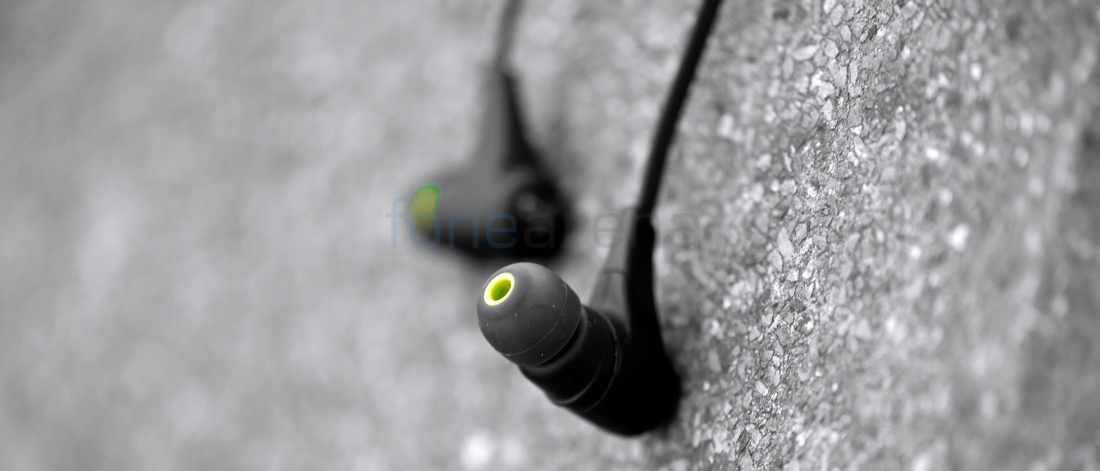 The earphones are made out of hard plastic but are quite durable and seem like they can take a drop or two if needed. They come with removable ear tips and ear fins that can be interchanged as and when you need them. They come in several different colours to suit different lifestyles and preferences of the users. There are 6 different colours on offer and they are called : Storm, Midnight, Alpha, Ice, Fire and Charge. The variant we currently have is called Midnight and it features a majorly Black colour scheme with Olive green colour accents on the ear tips.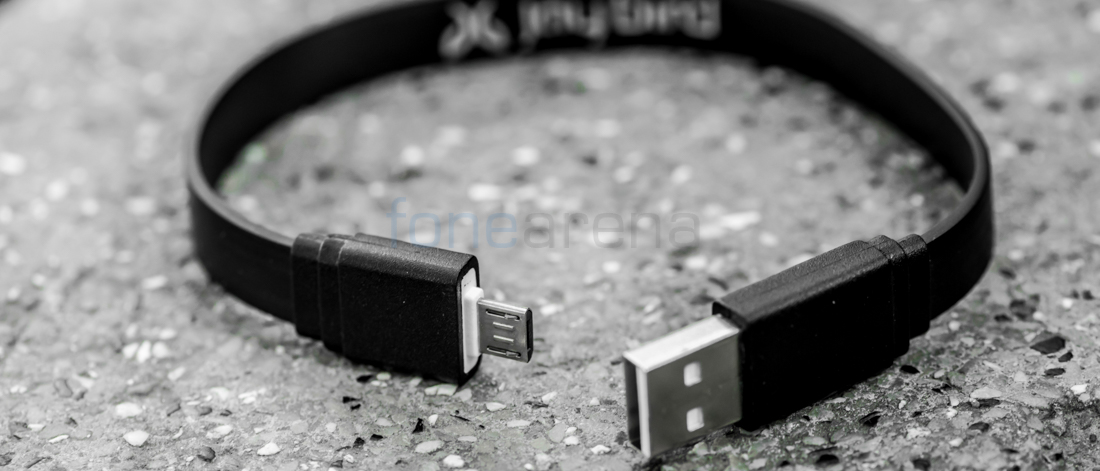 Controls and Ports
The cable that connects both the earphones comes with an in-line control that has controls for volume up/down and play/pause. It also has a built-in microphone as well as a Jaybird logo on the other side. The left earbud has a built in microUSB port for charging as well as an LED indicator that is capable of displaying Green and Red colours. The microUSB port is covered by a plastic flap to prevent moisture from getting inside.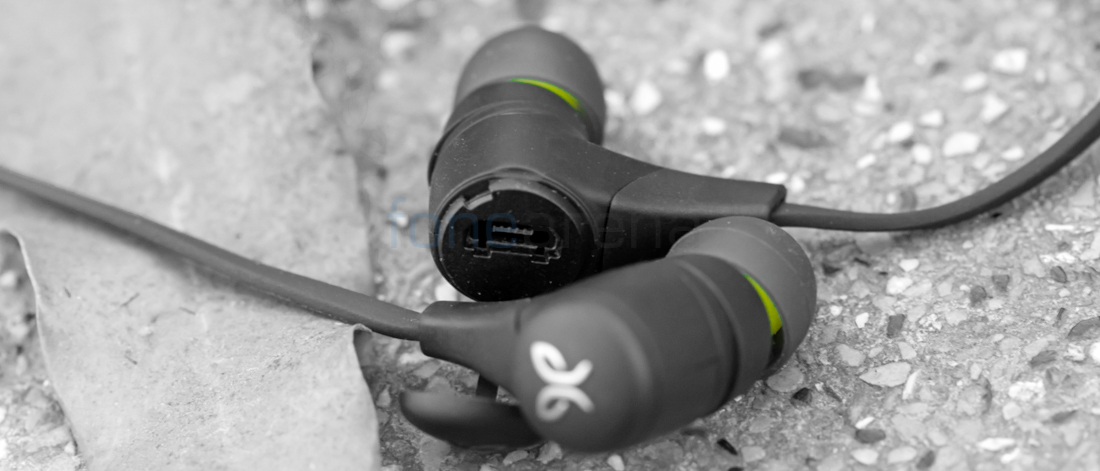 The controls on the Jaybird X2 are a bit different compared to most other conventional earphones. It still does have track skip controls like other earphones but rather than relying on the play/pause button, it makes use of the volume up and down controls to do so. A single tap on the volume up or down buttons will increase and decrease the volume respectively. Pressing and holding the up and down button will take your to the next track or previous track respectively. Double pressing the play/pause button will result in a redial command. A single tap during an incoming call will accept the call and a long press will reject the call. Similarly, a long press will turn on the earphones and turn it off if it is already turned on.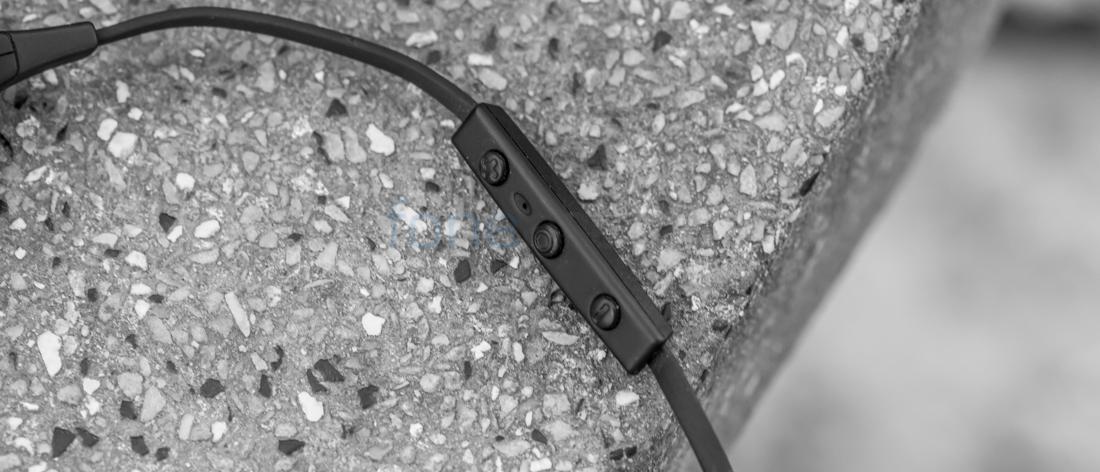 Comfort
I can probably just have written that the Jaybird X2 is the most comfortable pair of wireless earphones I have ever tried and end it there but there is so much to describe about the comfort. It is super light weighing in at just 13.8 grams so after the initial run in period, you won't even notice that you have something around your neck or earphones plugged into your ears. The ear tips come in various sizes so it should fit almost everyone and it also comes in both silicon as well as foam ear tips based on the material you prefer. Our suggestion is those of you who are planning to listen to this while doing exercises or working out use the silicon ones while those of you who are listening to them while commuting or at home use the foam ones. The foam ones do seem more comfortable but don't do well when moisture or sweat gets mixed. The silicon buds do a better job at keeping the sweat out and also can be washed easily when it gets dirty.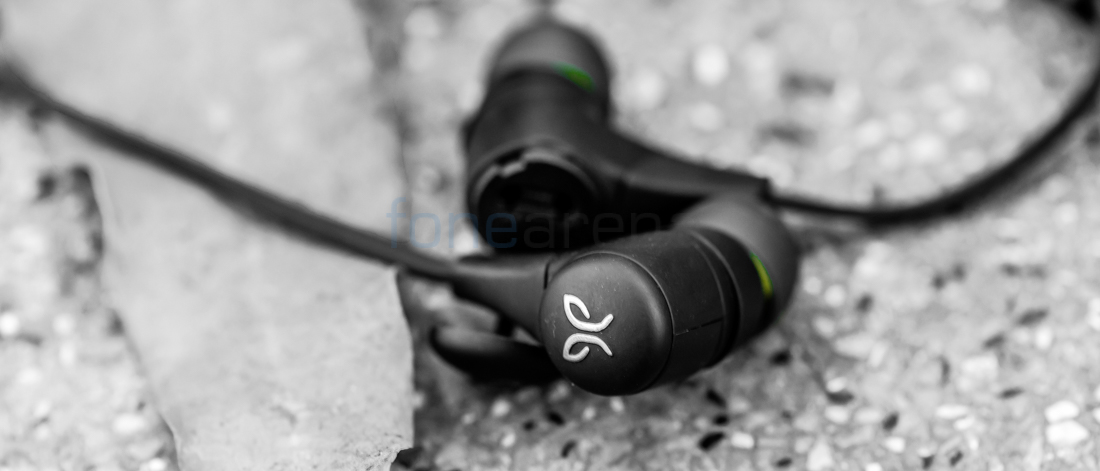 The foam tips also have a memory function so that it fits it better once you've used it for a while as it remembers the shape of your ear canal. Jaybird gives a life-time warranty against issues caused by sweat which means that it is extremely resistant to sweat and moisture. Mind you, the earphones aren't waterproof so don't take them on your swimming routine. But they are perfect for runs especially with the ear fins that manage to keep the earphones in place even with all the jerks and sudden movements.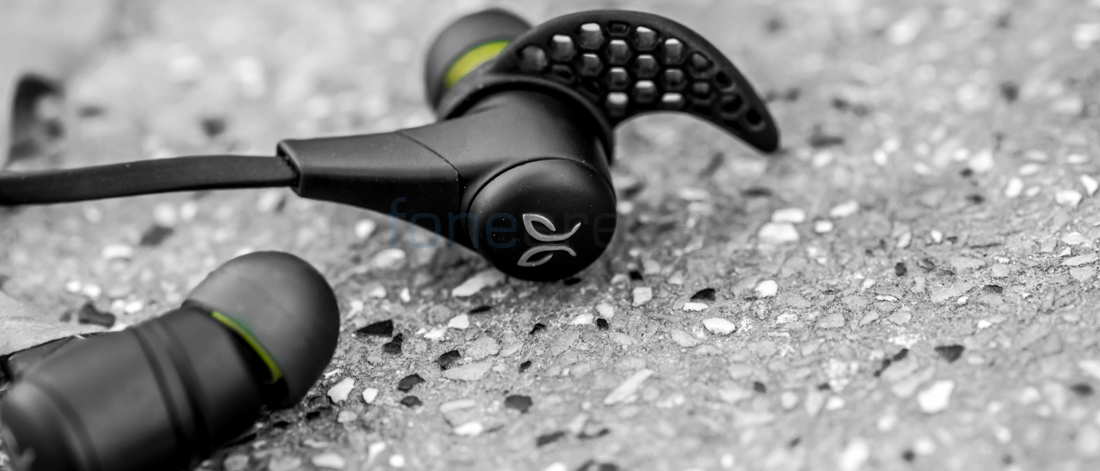 They also come with several cord management clips that can be used to adjust the length of the cord by looping it on the clip itself. But we really didn't find the need to use it and found the length to be pretty fine. But some of you may find it better to use it.
Portability
Anything wireless is typically designed to become portable and hassle free but the Jaybird X2 makes it even more simple. The bundled hard carrying case is perfect for safely carrying your Jaybird X2, the microUSB cable as well as a few extra ear tips and ear fins. Even with all these, it still is quite light and will easily fit into all bags. It could even fit into your pant pockets if you are wearing something with baggy or large pockets.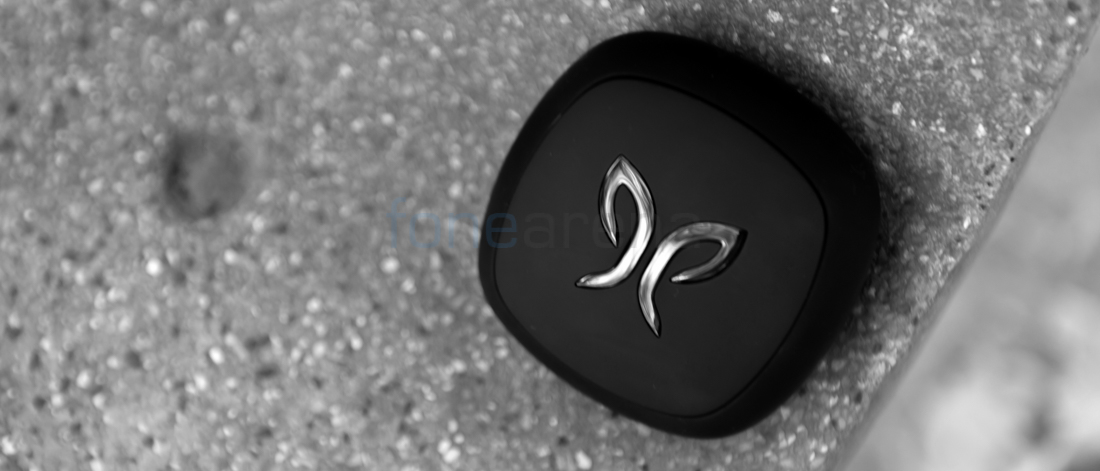 Or else, you could go ghetto and just let the earphones dangle across your chest and since it is around the neck, it won't fall off just like other regular wired earphones. However, you should be a bit careful as they can fall off if you move around a bit too much.
Sound Quality and Performance
Most earphones sacrifice on sound quality or portability when they go wireless. However, the X2 manages to provide really good audio quality despite being such a small package. It even outperforms some of the bigger wireless headphones that we have seen. The dynamic range is pretty good but what really stands out is the bass which packs quite a punch despite the relatively smaller size of the earphones and the 6mm drivers. The earphones do not have noise cancellation but the tight fit makes sure that they isolate sound pretty well and as a result, you don't really need to increase the volume too much even in noisy environments. The volume can go pretty high if you want to but we advise against going so high as it can cause damage to your ears especially over long durations of use.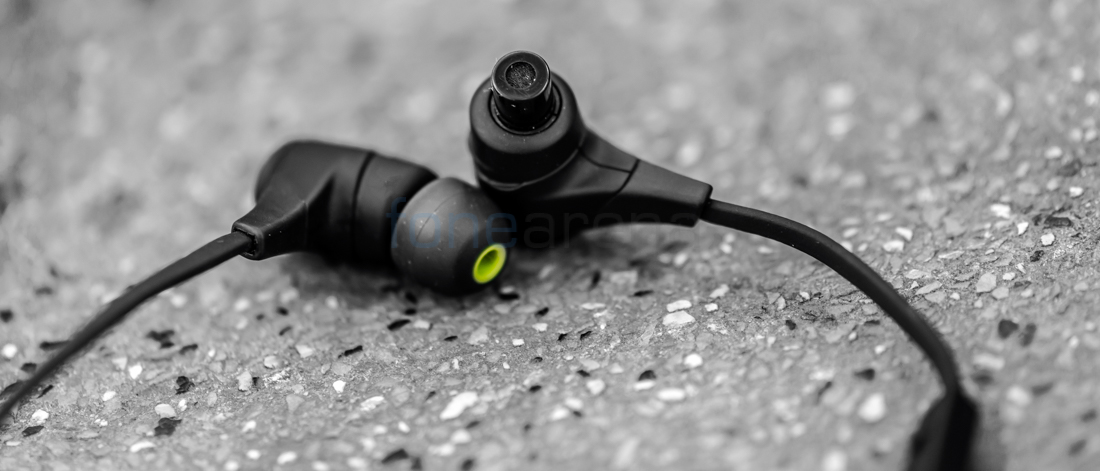 Pairing the earphones is easy. All you have to do is keep the play/pause button pressed till the headset begins flashing in red/green colours. Then you simply head to the Bluetooth settings and connect then pair. The X2 can be paired with upto 8 different devices at the same time. It comes equipped with Bluetooth 2.1 + EDR since newer standards with Bluetooth Low Energy don't support high bandwidth music to be streamed wirelessly.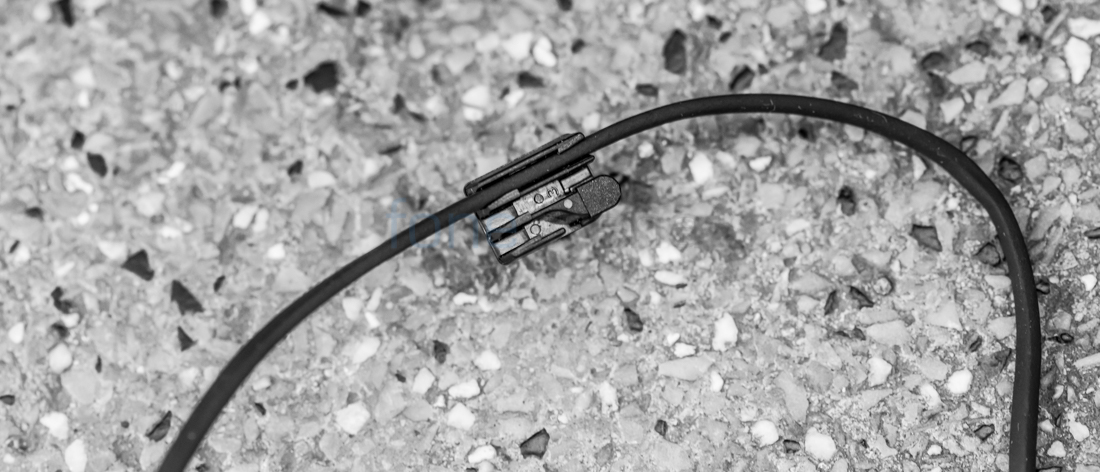 The headset is also really good for hassle free voice calls since it comes with a built in microphone. You can accept or reject calls directly from the earphones and you don't have to touch it once you pick a call. You can speak freely just as if you were using a speaker phone and you have both hands to yourself to carry on doing whatever you were doing prior to the call.
Battery Life
The earphones have a rated stand-by time of 250 hours and a playback time of 8 hours. While we haven't tested the headset continuously till the battery died on any one occasion, it does last more than you would typically expect from a wireless headset of this size. It also is capable of resuming instantly from where you stopped even if the headset has been in standby for quite a while. The exact battery life will depend on your usage, how long you listen to, with or without breaks and how loud. Nevertheless, the battery life is more than we expected and that is a good thing.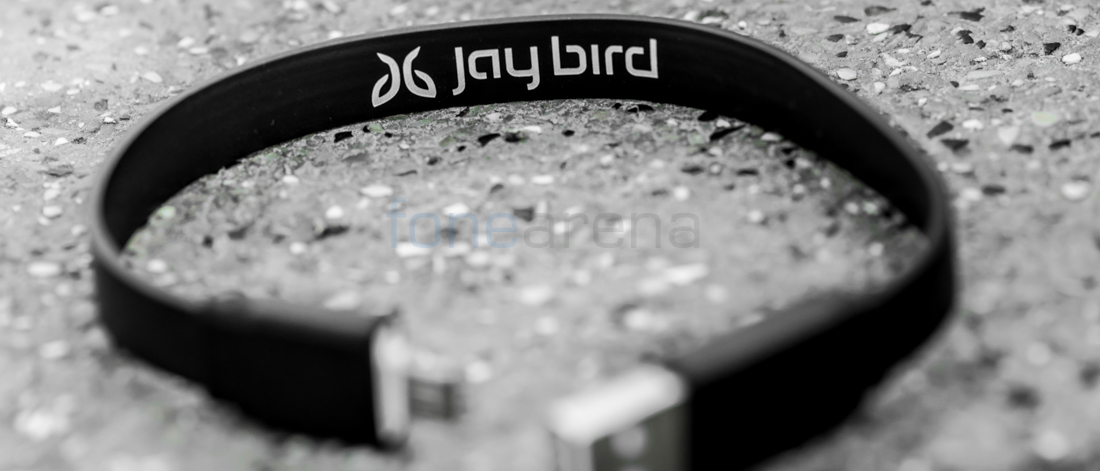 The earphones charge using a microUSB port and Jaybird includes a neat flat design microUSB to Type-A cable in the box. The only issue is that it maybe a bit short to connect to your wall charger but is fine to connect to your laptop or PC. But having a microUSB port means that just about any cable lying around your house from your other products will work fine with the X2 as well. It takes around 2 and a half hours to fully charge the earphones.
Conclusion
The Jaybird X2 is available in India in several different colour variants at a retail price of Rs 15,999. You may find it for a little cheaper at some retailers than others and we do agree that it is a bit pricey. But look at it this way, if you want a wireless pair of earphones that do not compromise on the sound quality, portability and comfort, then you have virtually no other alternative. It is well worth the money you spend on it.