Earlier this week a couple of leaked images showed us a glimpse of Android N UI. Now, Android Police has revealed a bunch of leaks that shows how the UI will be for the Settings on Android N.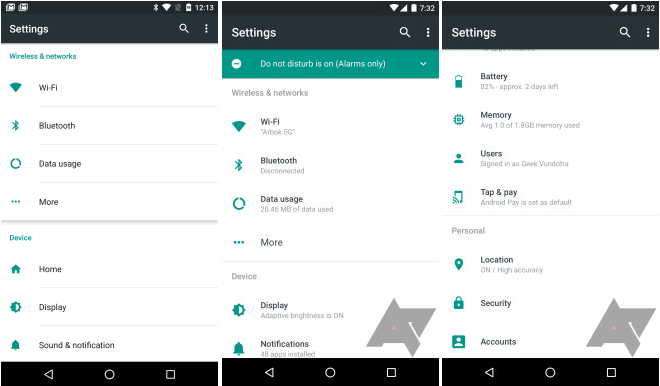 Similar to the earlier leaks, these are mock ups based on the real Android N screenshots. One of the first things that is noticeable in the screenshots, is a bar which sits on top of the Settings. This bar has a 'Do not disturb' status and a drop down menu that will let you shift modes. The top-level settings now does not sport a line in between individual items instead it is present in between each individual section like Wireless & Settings, Device and so on. Moreover, the settings now show additional information below the items like the data usage will now display the amount of data that is used while the display will tell you if the adaptive brightness is on.
Google is still going with the hamburger menu that lets you navigate between different areas of the settings. Clicking on the menu slides out the items like WiFi, Bluetooth, Data usage for quick access. The items in this navigation list are the same as what you see in the top-level setting list. Notifications and sound have also been split into separate menus in Android N.