In a bid to make it easier for users to make bill payments and easy recharge for mobiles and DTH, Snapdeal has integrated Freecharge wallet into its Android and iOS mobile apps.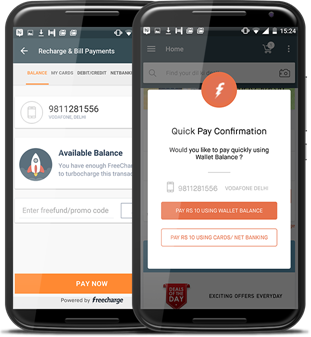 The integration will allow Snapdeal app users the to view recharge plans and recharge history for repeat with a single click. Detailed information on the available cash back offers on recharges and bill payments will be showcased right on the home screen of the app. The contact book feature is directly integrated into the app which lets you recharge for your friends and family seamlessly. The feature is available on Snapdeal's Android and iOS apps. Snapdeal had acquired Freecharge in April last year following which it had rolled out the Frecharge digital wallet in September.
Manav Kamboj, Vice President of Engineering, Snapdeal and former CEO of LetsGoMo, an end to end mobile solutions provider acquired by Snapdeal, said
Bill payments are tasks that we all need to do but don't enjoy or want to explicitly plan for. By integrating utility bill payments, prepaid and DTH account recharges, we are making this a "one-tap" process to deliver a frictionless marketplace experience. It's like going to your favourite bazaar to shop and stop by for a moment to pay a mobile bill. Simple".