Twitter has launched a new ad product dubbed as First View which provides marketers the ability to own the top Twitter ad spot in the news feeds for a period of 24-hours.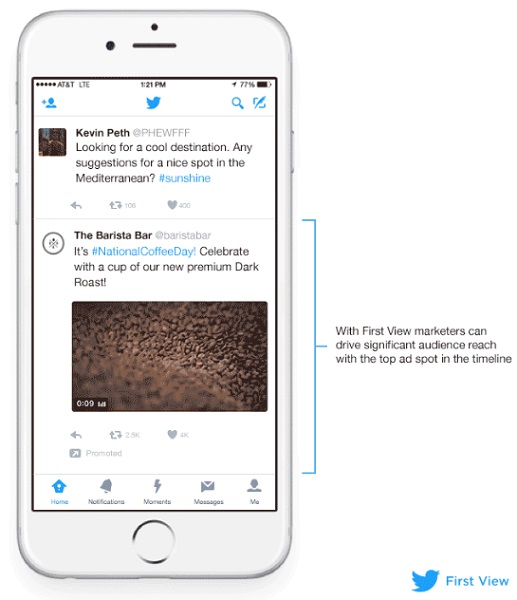 When users first visit the Twitter app or log in to twitter.com, the top ad slot in the timelines will be a Promoted Video from that brand. Twitter says that First View will be a "engaging and highly visible way to share your brand story with compelling video creative across Twitter's massive audience." Ads featuring in the First View placement will get a premium placement thereby offering an opportunity to reach a high number of users. The new ad product is rolling out initially in the US to its "managed clients" and plans to expand it globally in coming months.
Deepak Rao, Revenue Product Manager, Twitter said in a blog post
Each day, millions of people come to Twitter to engage in conversations about their passions and every topic of interest that continually shapes culture. At the same time, marketers come to Twitter to reach this live, premium audience through Promoted Trends and Promoted Moments, creating significant brand moments for their product launches, event sponsorships, and film premieres.
Twitter has been striving to increase user engagement on its platform and has hence made a number of changes and improvements since past few months. The new ad product could rake up some moolah for Twitter and give a boost to its ad revenue.