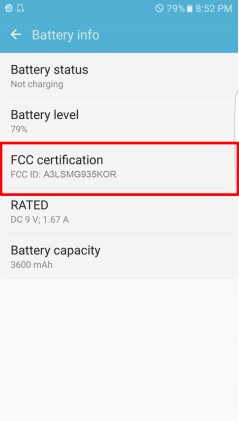 An earlier claim from Eldar Murtazin had stated that the Samsung Galaxy S7 and S7 Edge will have really good battery life. Now, a new filing on the FCC reveals that the Samsung Galaxy S7 edge will have a 3600 mAH battery.
Eldar had claimed that the S7 would be capable of 17 hours of video playback at 100% brightness. That means that the phone would go up there with the rest of the best in terms of battery life. The new FCC listing does more or less confirm the claim.
While we may not get 17 hours of playback at 100% brightness, the phone should have quite good battery life. If you remember well, the Galaxy S6 and S6 edge had only a 2550 mAH and 2600 mAH battery respectively. At the time, Samsung tried to focus more on the build quality and hoped that quick charging as well as wireless charging would keep customers happy.
However, we like most of the customers out there believe that there can be no real substitute to better battery life and if the 3,600 mAH battery capacity is real then it is good news. Not only is this capacity a whole 1000 mAH more than the previous generation S series of devices, it is also 600 mAH more than the current Galaxy Note5 and S6 edge+ smartphones. This extra capacity could be the reason that the S7 and S7 edge being thicker as well. But we would take a slightly thicker phone for a better battery life anyday.
The S7 edge is expected to be a 5.5″ device while the S7 is said to be a 5.1″ device. The S7 should have a similar bump in battery size too. Our guess is somewhere around the 3,000 mAH mark or so. Either way, with larger batteries and smaller screen in the case of the S7 edge and similarly sized screen on the S7, the phones should perform better battery wise. We shall know for sure on February 21st when the two devices will get announced in Barcelona, Spain.