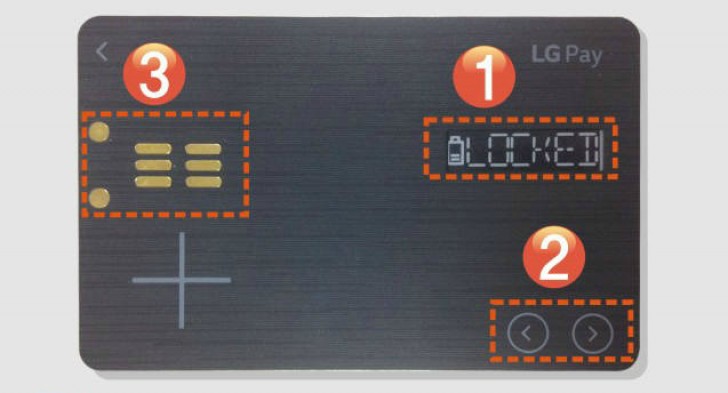 Just like Samsung has Samsung Pay, LG is also hard at work to bring their own payment service which will be called LG Pay. While the name certainly doesn't stand out, the way in which it works might. Apparently, users will need a separate device called as White Card in order to use the service.
The White Card is what you see in the picture above. Ironically it isn't white in colour but is more of a grey colour instead. The card is more or less the size of a regular credit card in terms of footprint as well as thickness. However, instead of your smartphone holding the information of your cards, that information will apparently be stored on this electronic card. So in a way it is similar to Apple, Google and Samsung Pay but you also get a tangible card.
In the image above, the part marked as number one is the digital display that lets you know which card you are using and the part marked number 2 are the arrows that you can use to choose which card to use. Finally, the number 3 represents the chip that will be used to charge your particular card for a transaction. There also seems to be a "+" symbol below part number 3 and our guess is that's how you add a new card.
LG believe that this method of payment will be easier for people to adopt at least for the time being and having a physical card will make it easier for payment in regions where digital payment adoption is quite slow. Customers will also be able to use it at ATMs.
LG has already ordered 50,000 units of the White Card and are rumoured to be in talks with a provide to mass produce more. LG has already gotten a few financial instritutions within Korea on board and they will be announcing the service next month at MWC in Barcelona, Spain.