Google Fit has been updated with a new feature that makes it easier for Android Wear users to track their activities directly from their smartwatch. With the latest update, the app has now been bumped to  v1.56.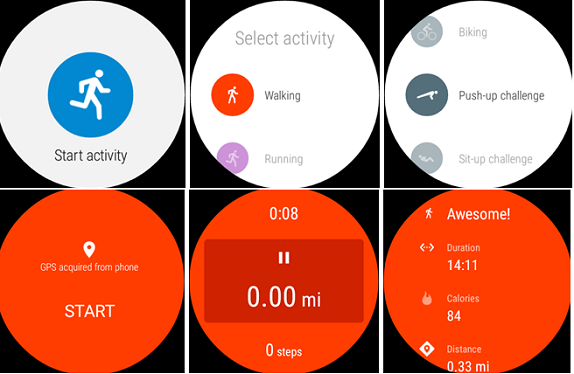 The latest update adds a new Activity Screen that allows users to start and stop activity trackers from the smartwatch itself. New activities like walking, running and biking have now been added to the app while challenges like sit-up, push-up, and squat are still there. The 'Start Activity' page that replaces the 'Start Challenge' page, now lets you access activities by swiping to the left inside the app. After selecting the activity, you will have to simply tap on it to start a countdown that will launch the activity screen. You can pause and start the timer anytime during the activity.
Users now have the ability to choose three options to track their workout, including calories, distance, duration, pace, steps, and time of day. The activity screen will act as a watch face if the ambient mode is enabled until the user exits the app, pause or stop the exercise. Finally, Google Fit app will offer the summary of the workout at the end. The update even adds integration with nutrition and sleep apps. Android Wear received wrist gesture support in November and designer watch faces last month.
Play Link – Google Fit