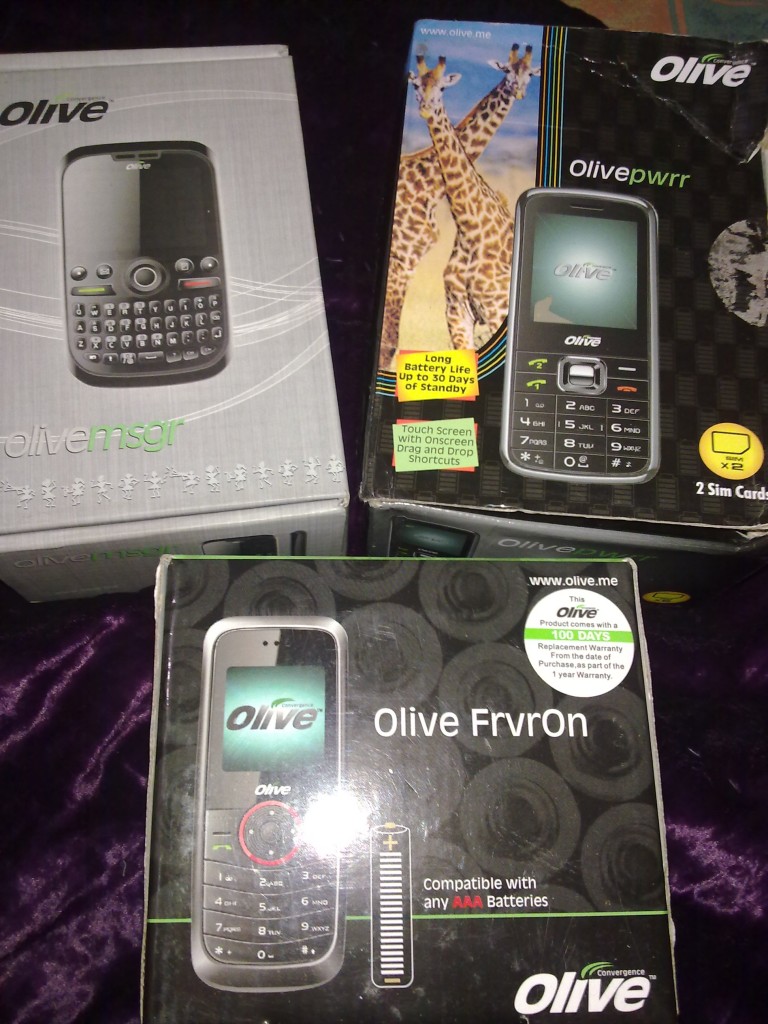 The Indian mobile phone industry has seen unprecedented growth and emergence of new players in the market. Players like Micromax, Maxx, Karbonn have come from nowhere and started selling handsets in the lakhs.
Amongst them is a company called Olive. Olive Mobiles is a new entrant just like the ones above and many more. So what makes them unique you might ask, they all are the same after all! One look and you might say so. But a closer look reveals that it is not the same.
Olive phones have made quite a splash with their handsets. Engadget even covered one of their models. A feat, no Indian manufacturer I know has managed till date.
Olive has been very kind in providing us at Fonearena, three devices to review. We've put each of the handset through its paces and pushed it to the hilt.
Let's get into the details of the phone first –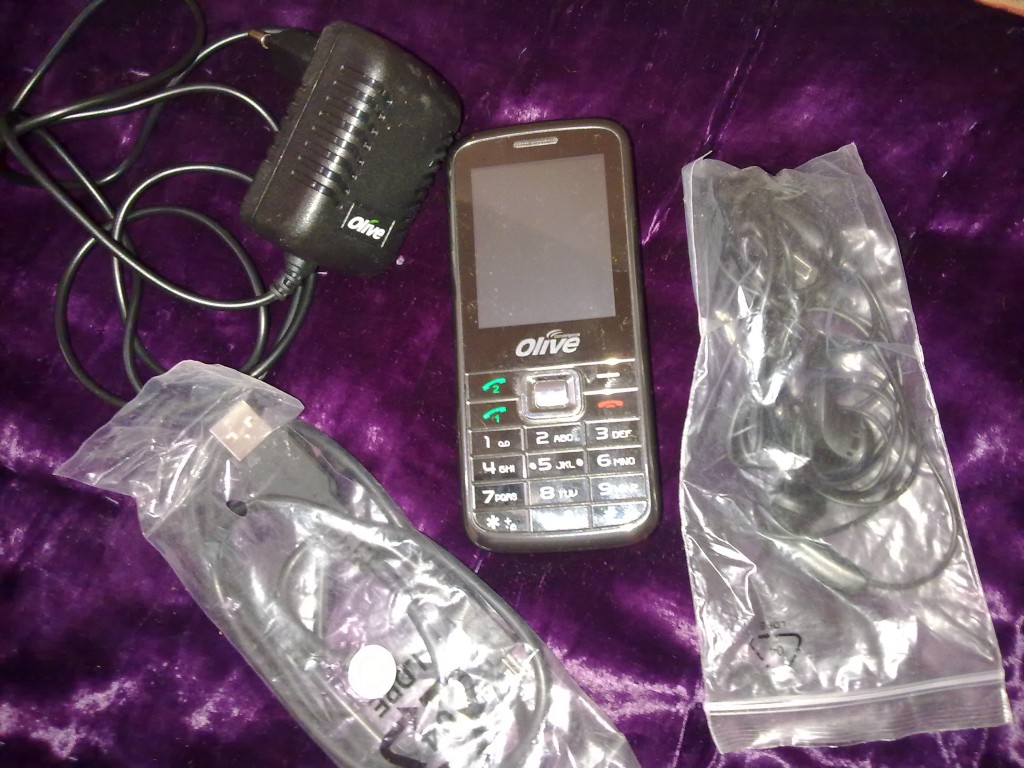 Olive pwrr: A dual SIM phone with a touchscreen and a large number pad and a massive 2000mAh battery.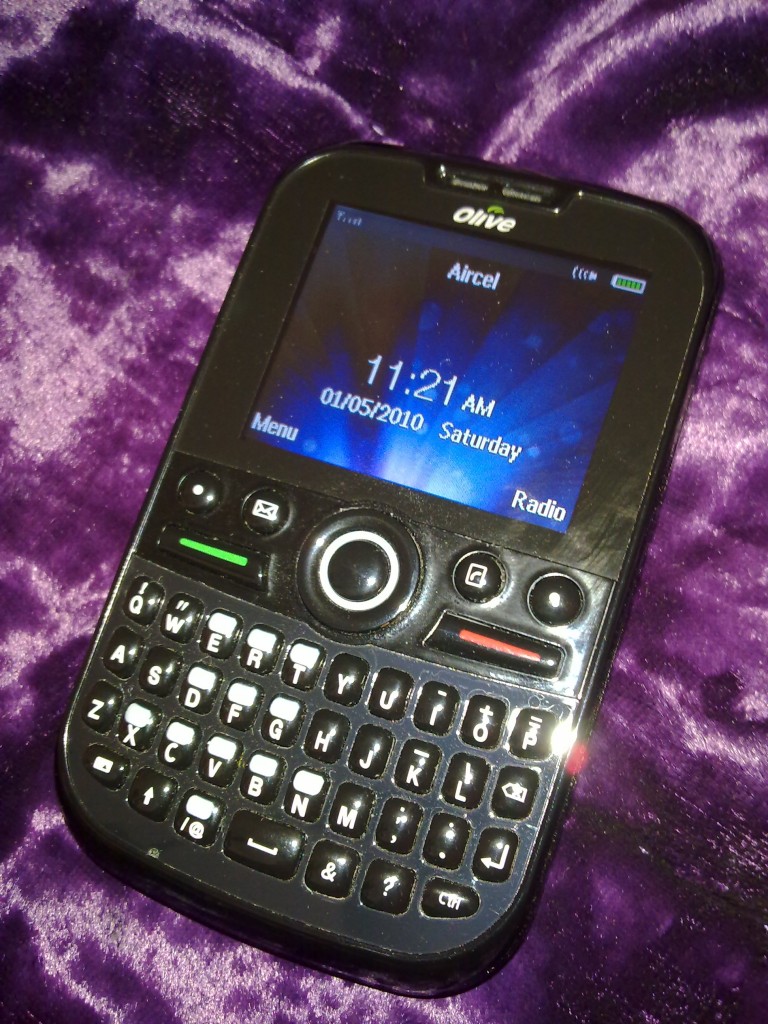 Olive msgr: A single SIM phone with a QWERTY keypad and no memory card slot, Radio is present. Nokia's BP4L does duty in this phone, that's 1500mAh worth of goodness underneath.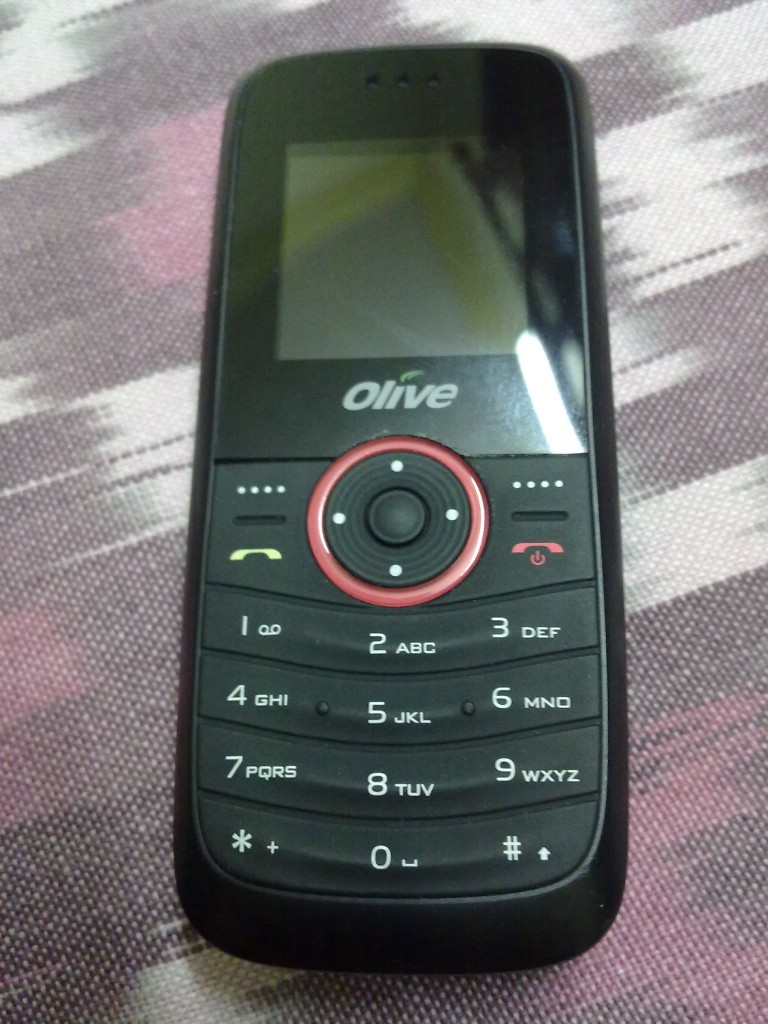 Olive FrvrOn: A basic colour phone with FM radio and a puny 600mAh battery and a big twist. A 'AAA' battery slot so that the main battery can be recharged directly through the battery. Something that is completely new in this industry.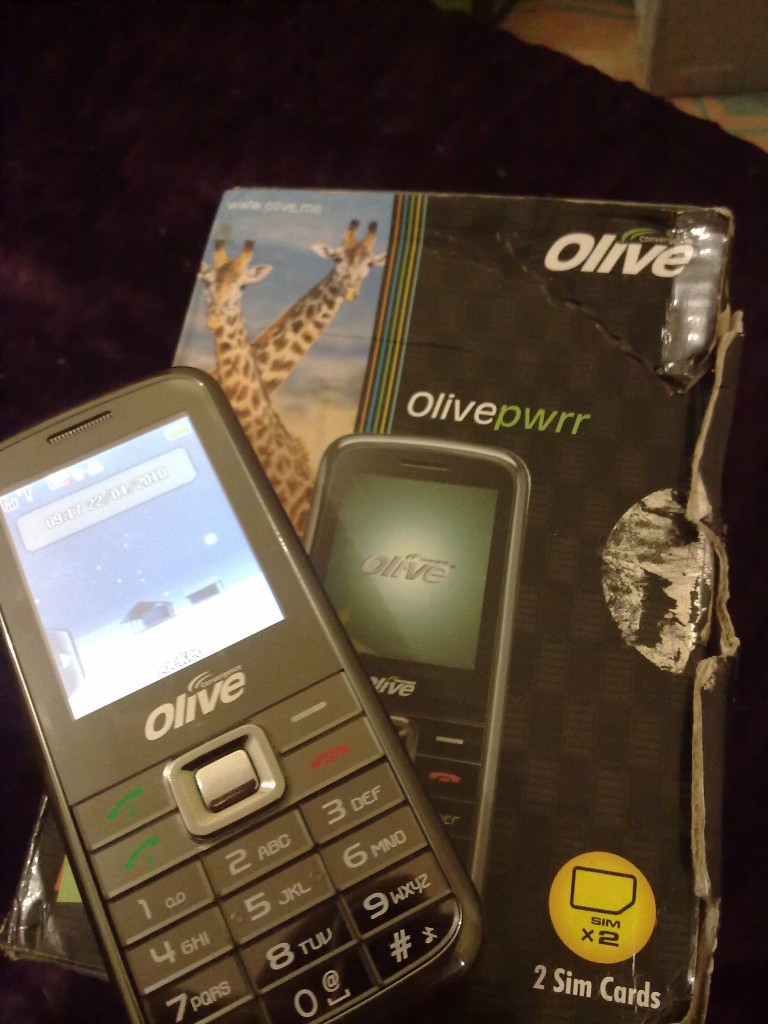 The Olive pwrr phone's design is inspired from the 5800. It is not a copy of it, but it did remind me about the 5800, a good attempt by Olive nonetheless. The device's front is finished in a mirror finish thus you have a reflective front; this includes the keypad as well.
A stylus is cleverly present in the phone, something I realized only two days into using the device. Which goes to say how good the fit and finish of this phone is. I must honestly say that the phone has good fit and finish. It certainly does not look like an 'el cheapo' chinese phone from some shady bylanes in Shanghai. If looks were the deciding factor, then this phone would definitely get chosen. I loved the size of the keypad. Large and big keys make using the phone a pleasure. Olive has played the design card well on this phone. The backlighting is also very nice and I will definitely consider this as one of the best keypads in dual SIM phones to date.
You definitely will not face issues with the typing or keying in things on the phone. It's perfect for mothers, businessmen who are moving continuously and everybody who has large fingers.
The screen is pretty good and I found it easy to read. Under the sun, it's a different story. It's not as legible as I would like it. I guess the reflective look comes at a price. You might find this to be a bit of a downer.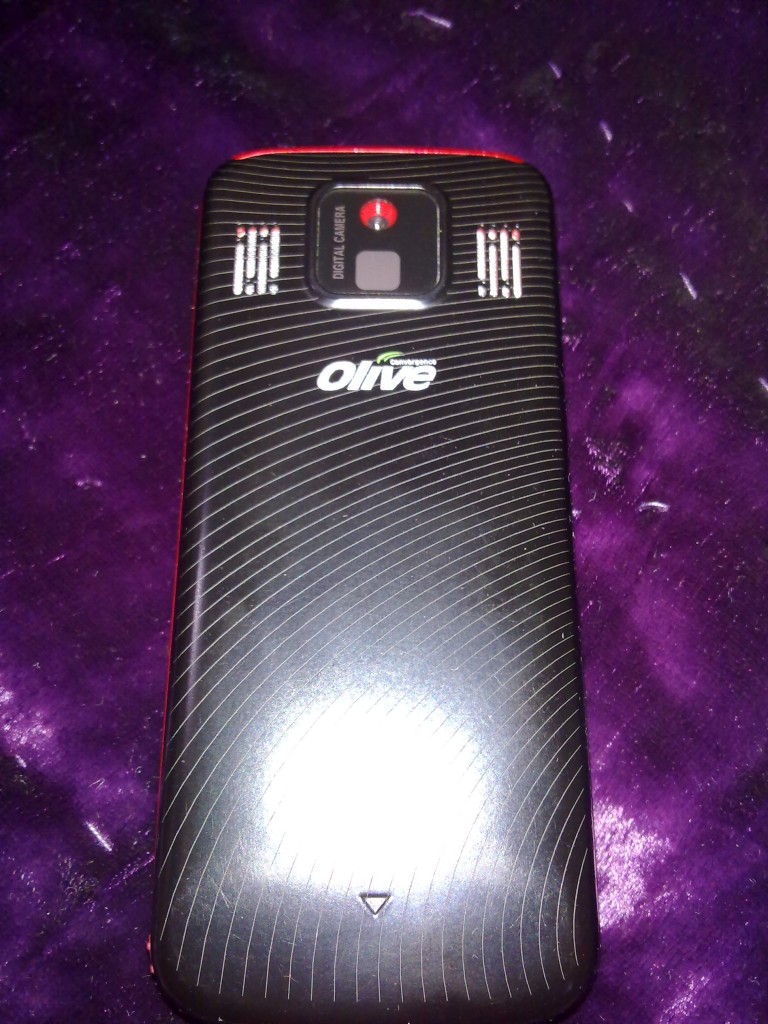 The sound qualities of this phone are pretty good. Dual speakers at the back are LOUD, easily eclipsing the Nokia 6233's speakers without really crackling. This phone was clearly made to be audible in the traffic and places where it is likely to be very noisy. I must say that it does the job of a music-player pretty well, just start the music player or FM radio and listen to it over the stereo speakers, no need for external speakers here. You will definitely like the audio quality of the speakers on this phone.
Let's not forget that this is a touchscreen phone, the touchscreen as you know by now is a resistive touchscreen. It's pretty good actually, I always thought that such phones would have rather poor touchscreen tech running. I must admit it was not the case with this phone. Sure I did not get feedback that I am used to with my white N97mini, but at the price, Rs. 3600 you really can't ask for whole lot. I never had problems getting the touchscreen to work, no erroneous presses or improper responses.
The camera on this baby is a VGA sensor. I did not use the camera for too long on this but did manage to click a bit of pictures. Below is a sample of the camera. It's strictly okay, nothing great, acceptable is the word actually. The picture as you can see resembles a painting. I guess I'm being harsh, but to be fair, it could have been a tad better. I'd probably give a 7 on 10. Use the camera in case you need to click a picture and don't have a higher resolution camera on you. The colours however have been captured quite well. I have no complaints there.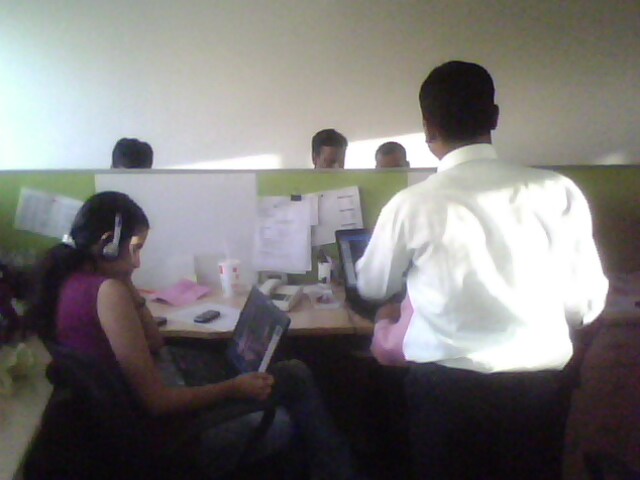 What takes the cake with this phone is its battery. Rated at 30 days standby, we at Fonearena thought it was a little too high and put it to the test. This 2000mAh battery really did not disappoint. With about 30-40 minutes of calling every day, I managed to get the battery to last 13 days. Yes 13 days without a single charge. I did use other features of the phone quite a bit like changing the ringtones, profiles, listening to songs, etc. You will find the battery to be more than adept to handle what you throw at it. Really have to say that Olive's statement of 30 days is not exaggerated, considering they tested it under optimum conditions.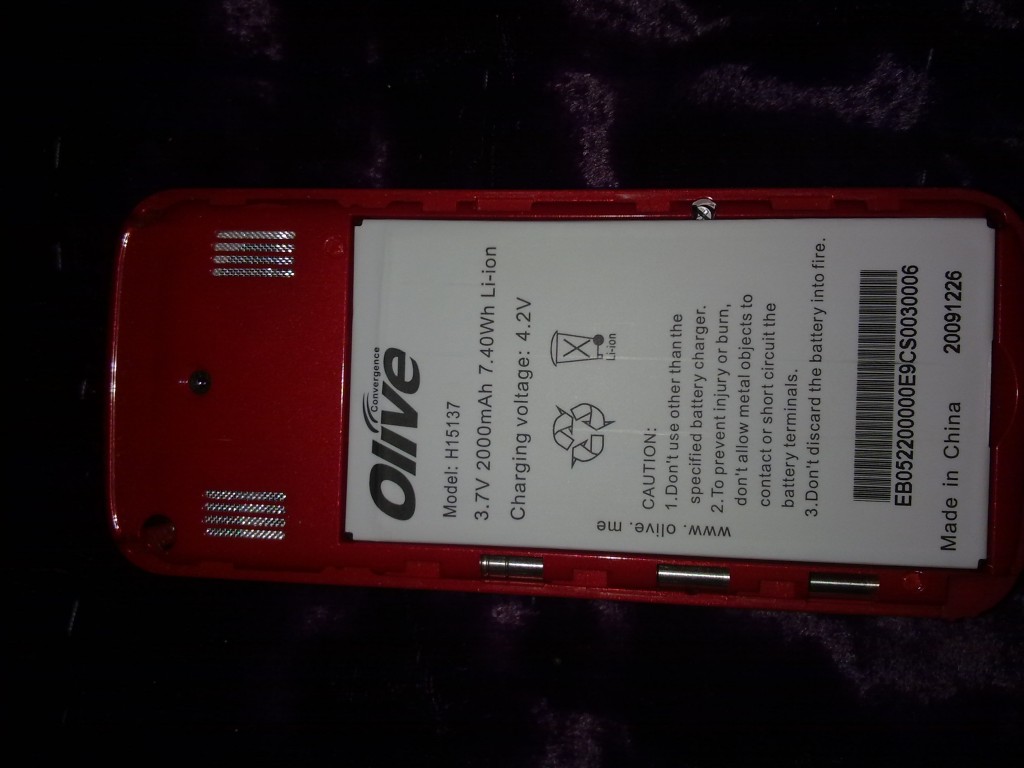 Fonearena's take – A great device for the price. One of the first 'Chinese' made Indian phones that is worth the money.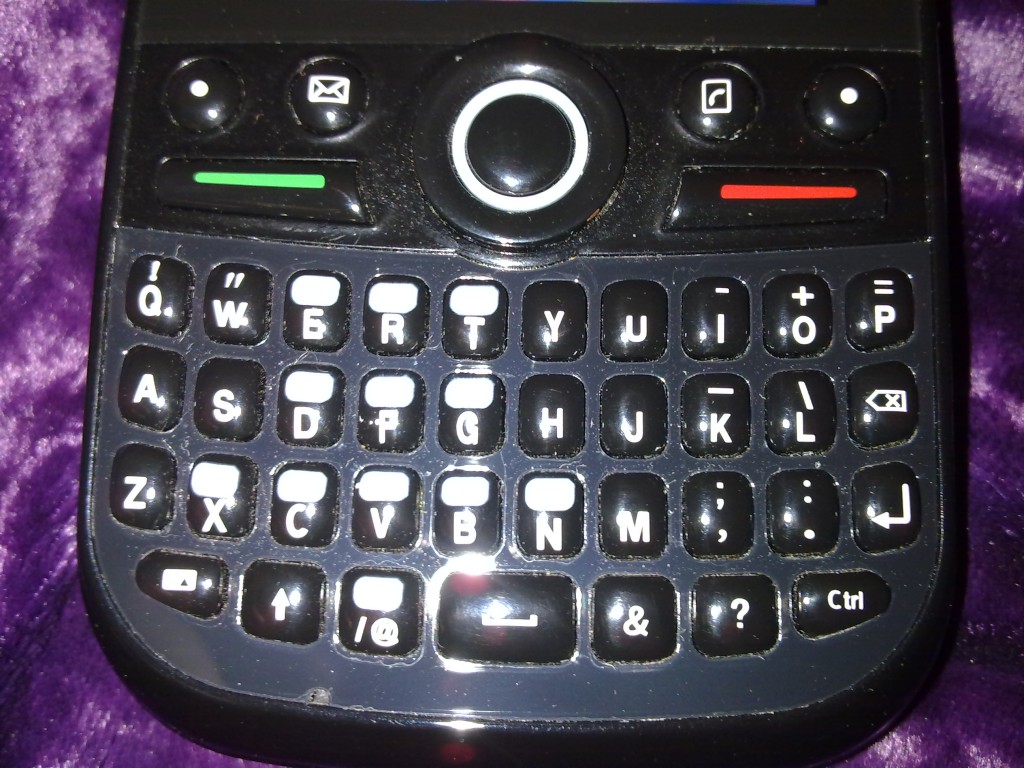 The Olive Msgr is your QWERTY device with a big twist. It's certainly one of the cheapest available in the market today. What you do have to sacrifice is a memory card slot. This is actually a basic phone in terms of features but due to the fact that it is a QWERTY device, gets a large colour screen.  The screen was pretty legible in sunlight, though in direct sunlight you could have a slight bit of an issue reading.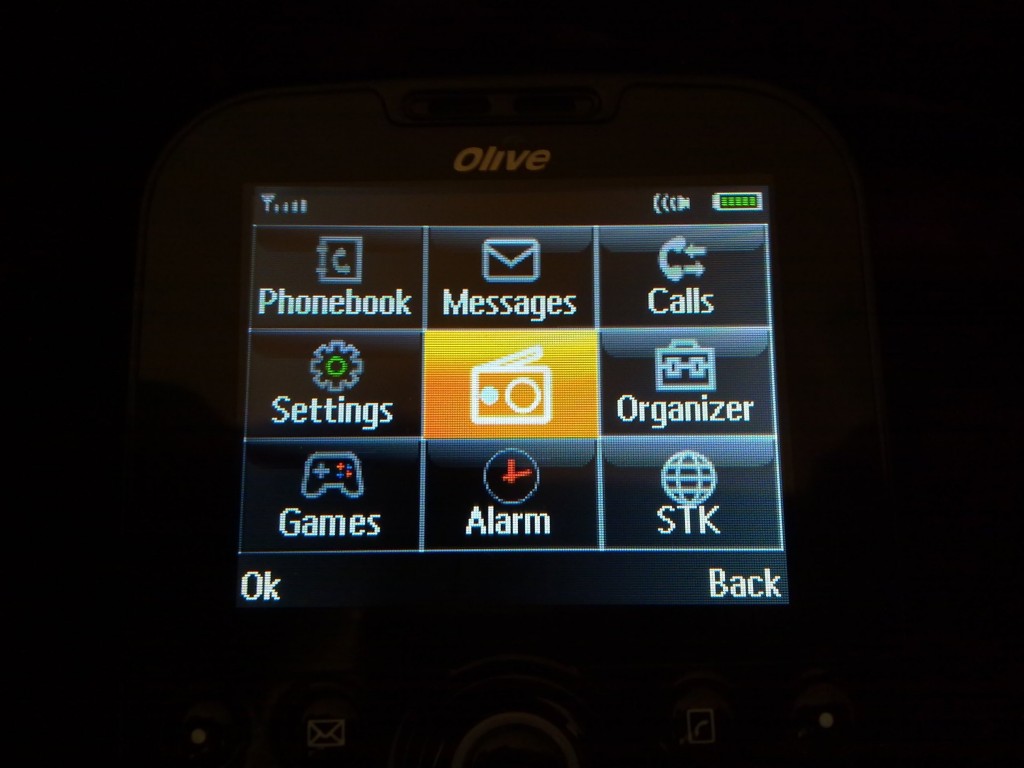 The phone is pretty loud when it rings, it's perfect for messaging (SMS) and you will find the keypad to be quite finger friendly. No issues there for people with large fingers, since each key is sufficiently raised. Thumbs up from us at Fonearena!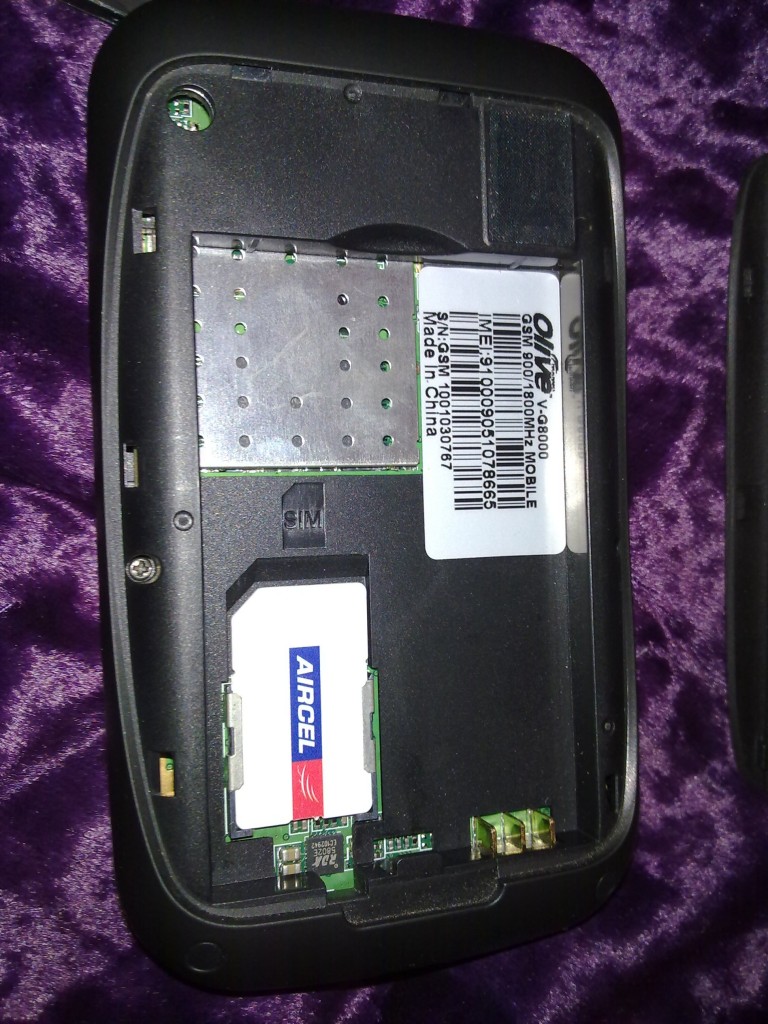 We did feel that the phone could have been given a Micro SD slot. Lack of a memory card slot really takes a lot away from this phone. It will definitely be an important factor for customers buying a QWERTY device. If Olive is listening, please have a memory card slot in this phone.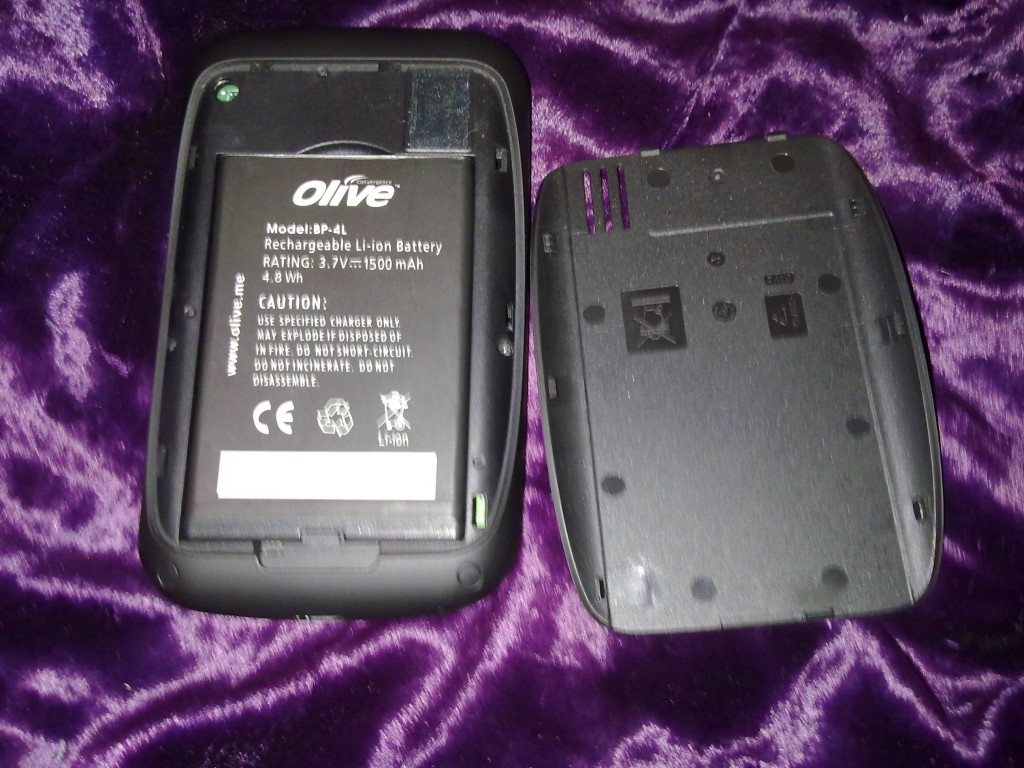 The overall design is that of a BlackBerry Curve 8520. The rubberized back along with the placement of the icons seem to point in that direction. If looks were the driving force in this category, then the Olive definitely scores high, but considering that customers in this segment want it all makes the Msgr look like an ancient product.
This phone comes with a massive 1500mAh battery. It looks suspiciously like the Nokia BP-4L battery too. In fact it wouldn't be a lie to say that the Nokia BP-4L and the Olive BP-4L are the same battery. I guess this explains why Nokia is not using their famed BP-4L batteries anymore ;). You will be able to get a good standby of 9 days with an almost similar usage pattern elaborated above. That is pretty good for a phone like this, although I must admit it could have been better.
This phone is perfect for someone who SMSes and talks a lot. The lack of memory card makes it look like a sports car with the engine of a small commuter car.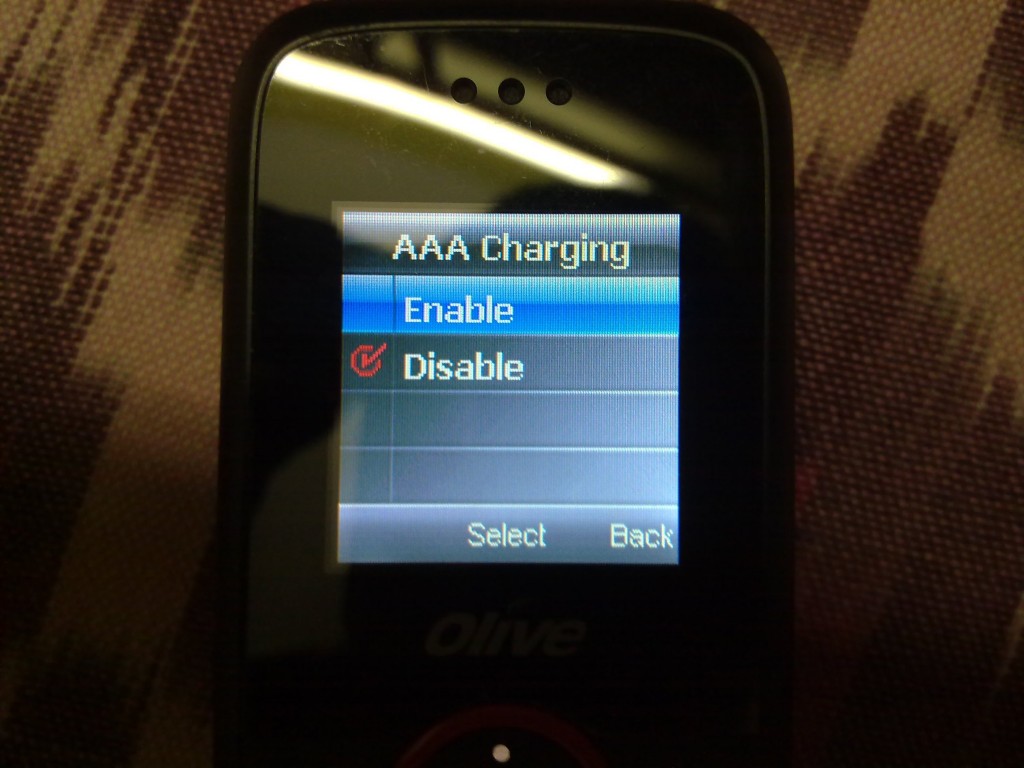 The last phone from Olive is the 'FrvrOn' phone. Why is it called that you might wonder? The reason for that is because this phone is Olive's claim to fame internationally thanks to Engadget publishing it on their website. This phone is a small basic phone with a 1.5" colour screen. It is a single SIM phone with FM radio. No memory card slot in this baby. But its claim to fame lies in the backside. The phone has two power sources built into the phone. The first is 600mAh battery (A real cute looking one) and a standard AAA cell. How it works is that, when the Li-Ion battery is out of power or almost running out of it. You can recharge the battery through the AAA 1.5volt cell. So basically your phone does not need a charger every time to work. Just pop in an AAA cell and you are good to go.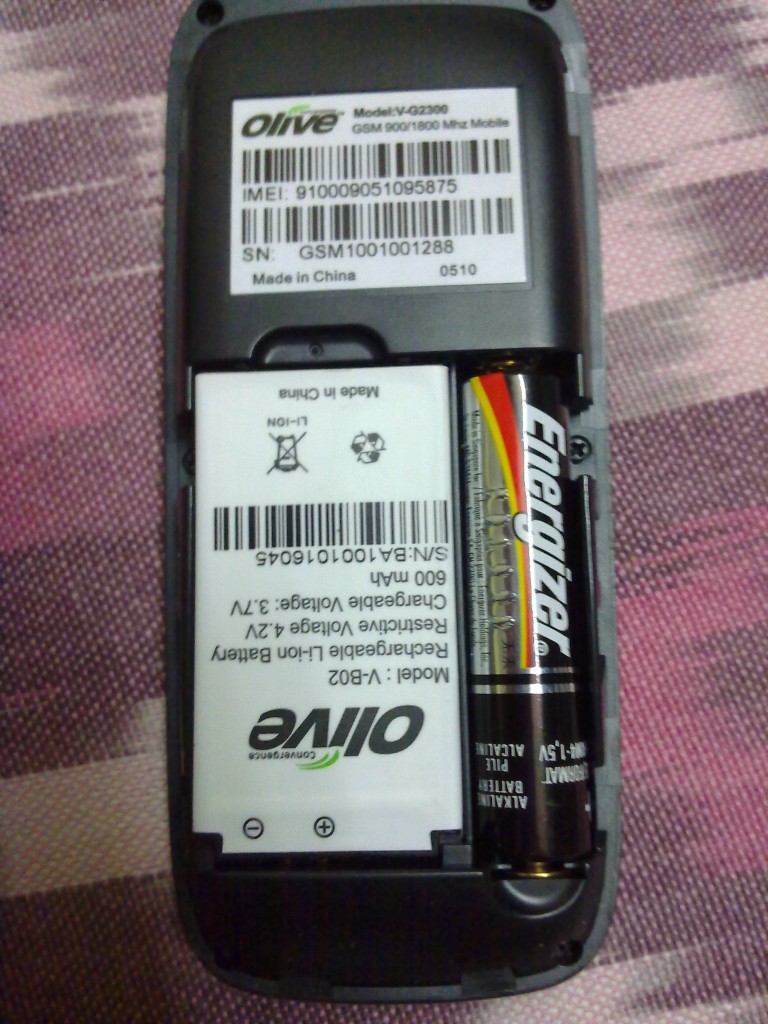 This actually represents true innovation if you ask me. In places where electricity supply is volatile, this phone is a boon. Just pop in the cell and charge your phone. I was able to get the phone recharged about 2 times from an Energizer AAA cell supplied with the phone. I reckon that to be pretty good.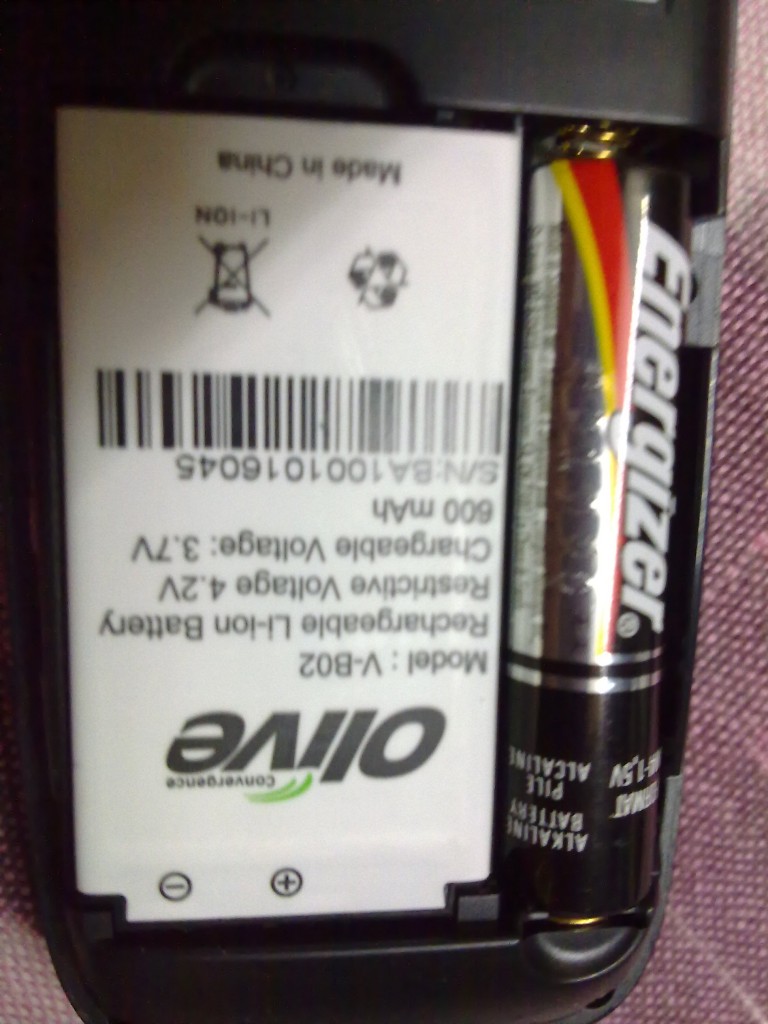 The battery itself gives a standby of about 3 days with minimal usage (10-15 minutes of calls and a few SMS in the day). Push it, and it will barely make it through the day. But then you don't have to worry about finding a charging spot. Simply enable the AAA charging option in the 'Go To' menu and watch the phone do its magic. It takes approx. 3-4 hours to get a full charge, so you might have to be a bit patient.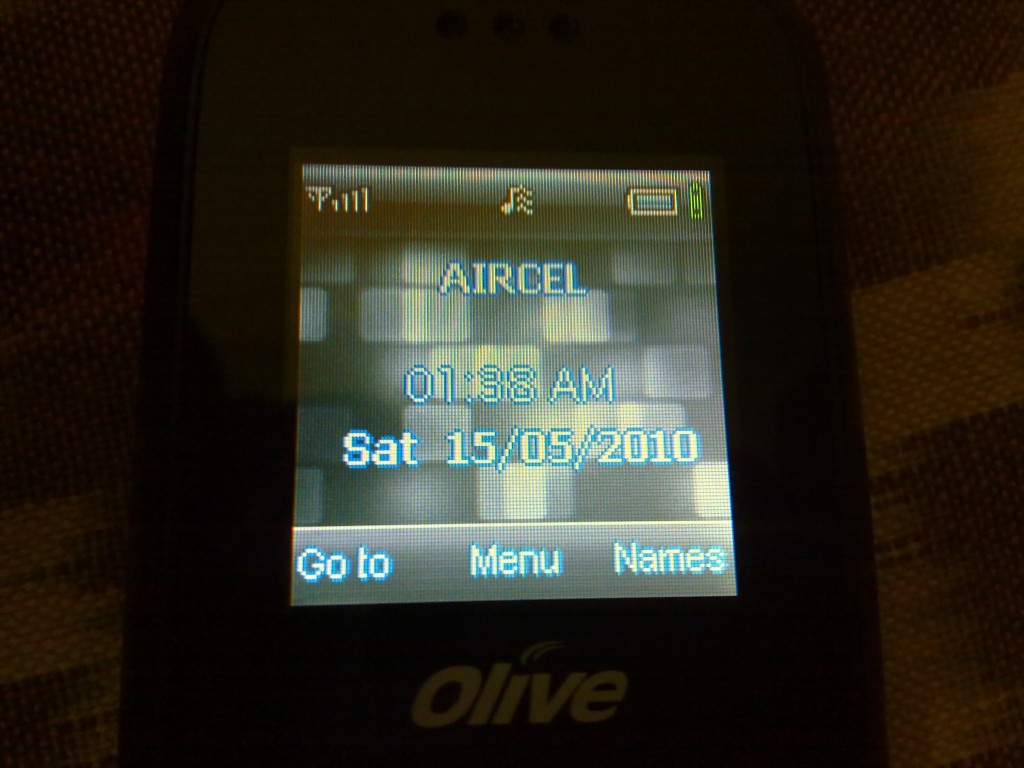 I think this is a good feature to have and must surely be explored by Olive with other models. It is a good thing, around which to build your USP even. I think as a feature it simply rocks. How about it coming to other models, eh, Olive?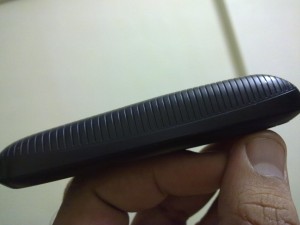 The design of the phone albeit is unique. Thanks to the battery slot, the battery cover is raised towards the bottom and resembles a TV remote's back. With wavy lines running across to give the phone grip it definitely is an original design. The plastic is ok for a phone of this category, it could have been a bit better, but that would have meant bigger sticker to the customer.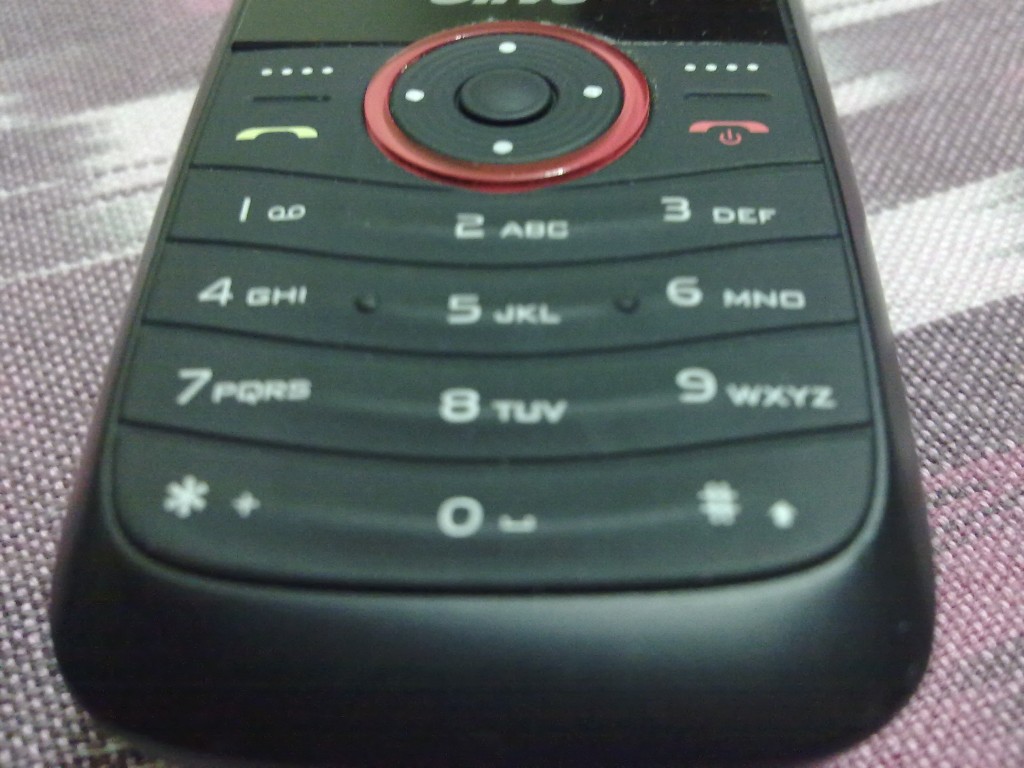 The front which has the round D-Pad and the standard buttons finished off in a matte rubber. I found the buttons to be a tad bit hard. You will find that the response is not reassuring while using the buttons. The soft keys are also small. The number pad on this device is raised which makes using it a bit easier, I wish it would have been slightly thinner and running from end to end, for better tactile feedback.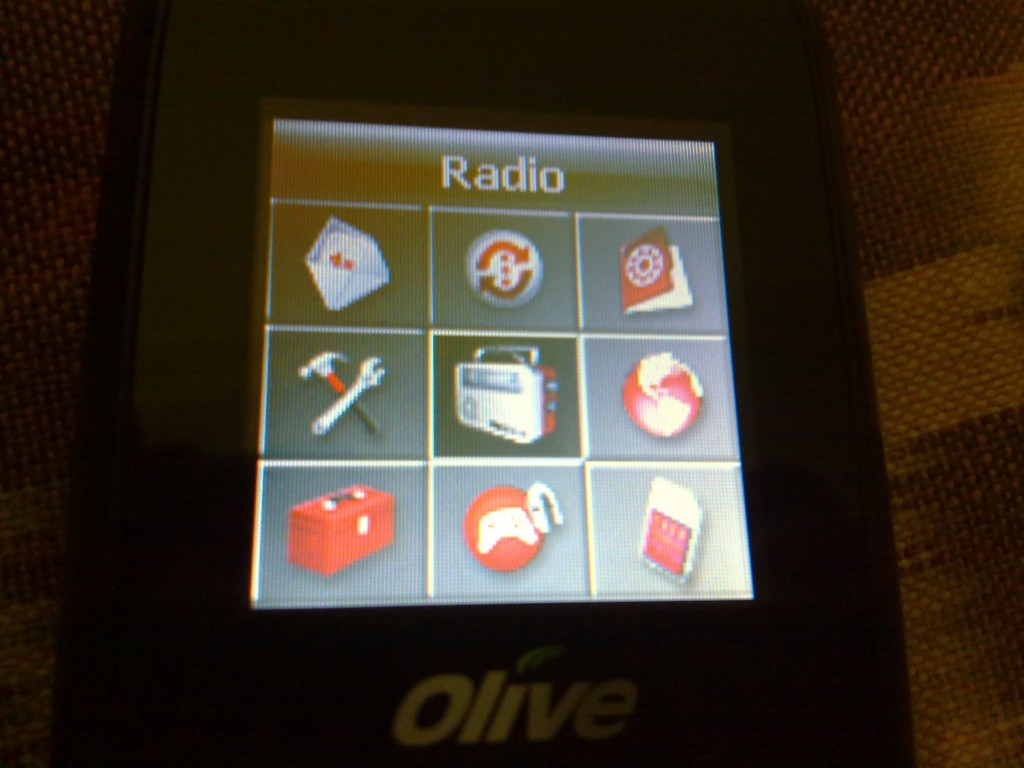 The screen as I mentioned is a 1.5" one. With 128 x 128 pixels it becomes a tad bit too difficult to read. The grid layout looks good, but I think the option of icon wise list would have been better. Screen legibility is ok in sunlight and poor when viewed from certain angles. The earpiece too wasn't loud enough and in noisy environments you will have to activate the loudspeaker to be able to carry out a normal conversation.
This phone is a good device in terms of features and takes the bread and butter phone a step forward. Where it fails is the size. I think a bigger device with a bigger keypad, a bigger screen (or even fewer pixels), a bigger battery would be a success.
I also missed having an LED torch in this phone. It is a necessity and should not have been omitted.
Overall, what impressed me about Olive phones is that they have not gone and integrated each and every feature into their phones. The fact that they have some decent single SIM devices is another thing I liked. After Lava, Olive seems to have a well thought and well placed line up of device. I hope they continue doing that in the future as well.
With the market being so crowded and everyone screaming on top of their voices about what their phone contains through downright unappealing ads, it will definitely help Olive if they introduced products with the right set of features that addressed customer needs and not competition needs, if Olive does that it has a good chance of succeeding where others have simply failed.
Do fill us in with your views, suggestions and comments…  We love to hear what you have to say. Below is a gallery of pics for viewing.