It looks like Sony will bring two new Xperia models in 2016, according to a leaked slide from T-Mobile Poland's press event. These phones could be from the Xperia Z6 lineup that is expected to be the flagship for next year.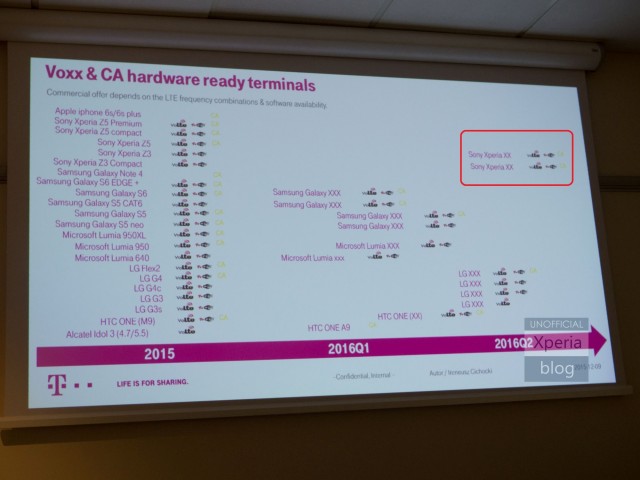 The slide does not give any other information about the phone. Sony recently announced a press conference for CES 2016 and according to the image, it has been suggested that new phones could be announced. It was rumored that the Xperia Z6 could feature pressure sensitive touch functionality that has been developed by Sony itself. Also it was speculated that the company may develop their own mobile processors in 2016.
In addition to the mention of the two Sony Xperia phones, the T-Mobile Poland slide also reveals that Samsung will launch four Galaxy phones out of which two will be unveiled in mid of first quarter while the other two are scheduled at the end of Q1. Earlier today, it was reported that Samsung could announce Galaxy S7, S7 Plus, S7 Edge and S7 Edge Plus in 2016. Moving on, Microsoft will launch Lumia models in the middle of Q1 2016. HTC flagship is also scheduled to arrive sometime by the end of Q1 while four new LG handsets are also said to be releasing in Q2 2016.
It looks like 2016 is going to be a full fledged year for smartphones similar to 2015.