Google is out with the monthly Android distribution numbers for the month of December. Lollipop 5.0 is now present on 29.5% of Android devices up from 25.6 percent in November.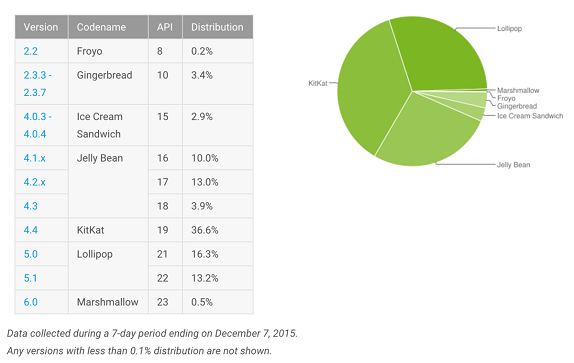 Marshmallow that had debuted in the distribution chart last month at 0.3% has now increased its adoption to 0.5% in December. That was big jump in a month's time. KitKat is still the largest as it is present on 36.6% devices down from from 37.8% last month. Jelly Bean (4.1/4.2/4.3) adoption also reduced to 26.9% from 29%, and Ice Cream Sandwich at 2.9% from 3.3%. Gingerbread and Froyo did not see any major change from last month and stand at 3.4% and 0.2% respectively.
Just yesterday, Google started rolling out Android 6.0.1 update for some Nexus devices. In coming months, the Marshmallow adoption will see a gradual increase at more devices will be updated with the latest OS.