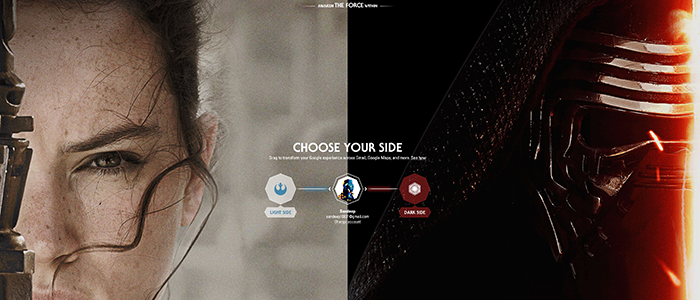 Google, like most of us, are fans of Star Wars. With the release of Episode VII scheduled to release next month, they have decided to release themes for their apps that celebrate one of the most famous movie franchises of all time.
Users will be able to choose the Light Side or the Dark Side and get corresponding themes for their apps. Google apps that are compatible with the themes include Gmail, Google app, Youtube, Maps, Waze, Translate, Calendar, Chrome, Chromecast, Inbox and Android Wear.
All users have to do is login to their Google account and head to the source link to choose between the two sides. Apparently, they have hidden a few easter eggs within the themes as well. We aren't sure what exactly they are or what they will do for you but do be on the lookout as it should probably be something good. Google said that they have more planned before the release of the film so stay tuned for that.