Microsoft has announced that it is tweaking the way it offers upgrades to Windows 10. The company will be changing the status of Windows 10 from being an optional upgrade to a recommended one.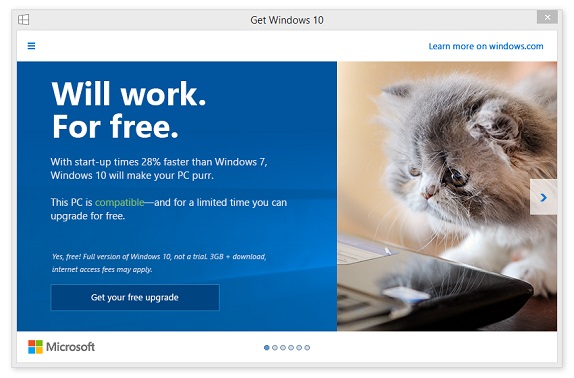 Microsoft said that it will soon publish Windows 10 as an "Optional Update" in Windows Update for all Windows 7 and Windows 8.1 customers while it will be categorized as a "Recommended Update" starting next year. Users will be presented with a dialog box prompting them to upgrade, "where they can choose to upgrade to Windows 10 or choose not to upgrade to Windows 10".
"Depending upon your Windows Update settings, this may cause the upgrade process to automatically initiate on your device. Before the upgrade changes the OS of your device, you will be clearly prompted to choose whether or not to continue. And of course, if you choose to upgrade (our recommendation!), then you will have 31 days to roll back to your previous Windows version if you don't love it."

posted Terry Myerson, executive vice president for Microsoft's Windows and Devices Group a blog post.
Windows 10 will automatically download and start the upgrade process, depending on your Windows Update settings, but you can opt out and not receive nagging prompts to update. In order to prevent the Windows 10 installer from downloading automatically, Windows 7 and Windows 8.1 users will have to turn off automatic updates. Windows 10 was initially launched on July 29 and owners of Windows 7, 8 and 8.1 have a year from that date to upgrade to Windows 10 for free.
Microsoft is also offering an option for users of non-genuine or pirated copies of Windows. Owners of pirated or non-genuine copies of Windows 10 can purchase a legitimate Windows license through the Windows Store prior to commencing the upgrade process. Microsoft is keeping this process as experimental in the US before expanding it globally.