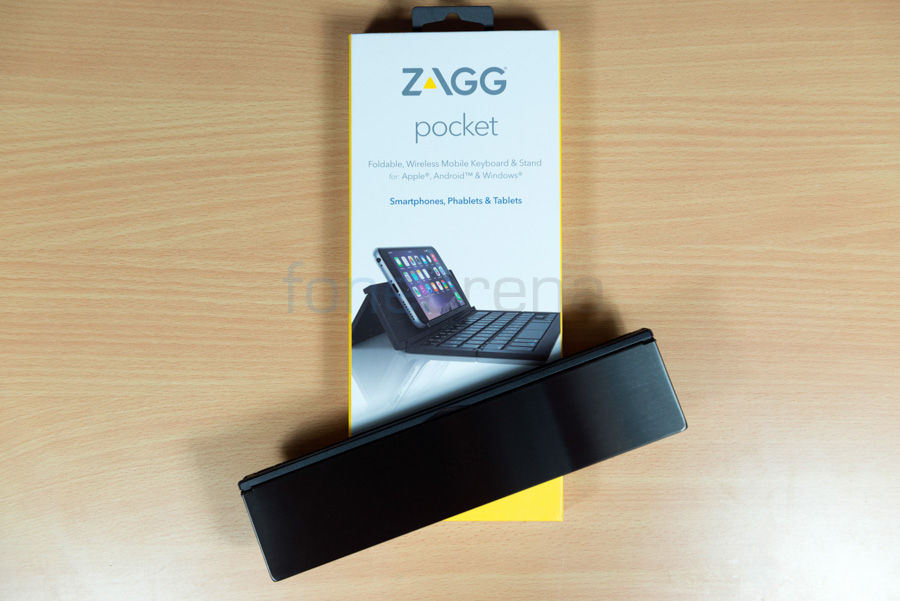 ZAGG Pocket is a foldable bluetooth keyboard for your smartphone or tablet. Its primary purpose is to increase productivity on the go. In this review, we will be taking a look at how well it performs as a keyboard and whether or not it actually does improve your productivity during travel.
Unboxing
We have already unboxed the device and below is the video:
The contents of the box are:
ZAGG Pocket Keyboard
microUSB Cable
User Manual
Design, Materials and Build Quality
Like the LG Rolly keyboard, the ZAGG Pocket is also foldable however, there is a difference in the way it folds. The LG Rolly folds into a rectangular cylinder of sorts. Instead of the cylindrical shape of the LG Rolly, the Pocket actually folds into a flat rectangular shape. The surface area is more but it can actually slip into slimmer space as compared to the Rolly. If you have a jacket or a pair of jeans/cargos with are enough pockets, them you can actually even slip the Pocket into one of those.  If not, the keyboard will easily slide into your backpack or suitcase wherever you go and when you do need to use it, it will be at your disposal.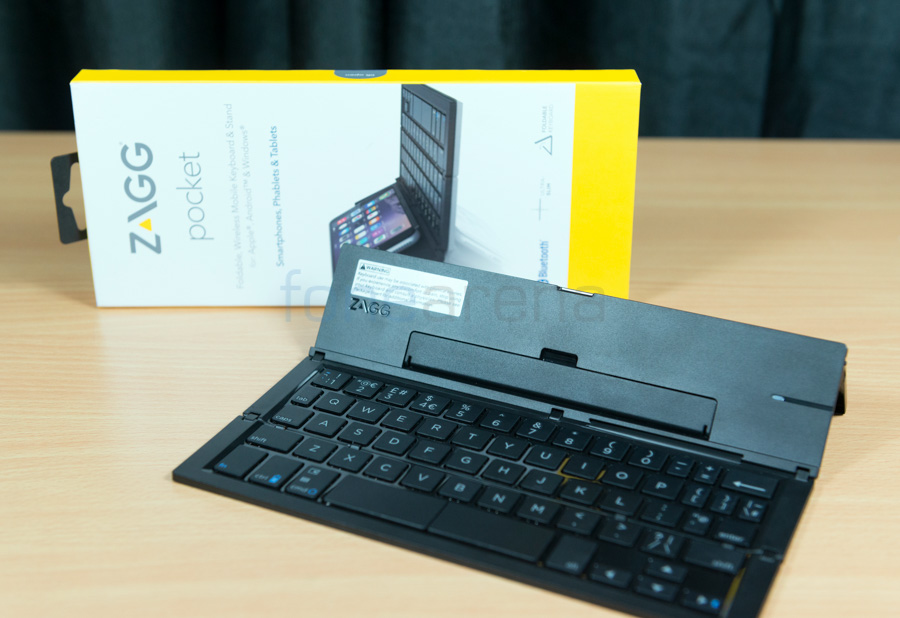 The keyboard folds out into two basic parts. The first part if the top which functions as a stand for the keyboard itself as well as for smartphones. The second part if the keyboard. The build quality is pretty good although it is primarily made of plastic except for the stand which bears the ZAGG logo. That is made of metal and offers good support to the keyboard even with heavy phone or tablets. The portion below the keyboard part also has metal cladding but the screws remain exposed. There are magnets in the keyboard that help it stay closed when it is folded away but does not need too much force when you decide to open it up either.
There is a built in stand on the upper portion that lets users dock their phones or tablets. Ideally phone but tablets do work as well but they will most likely end up covering the status light at the right side. The light notifies you when the device is on, when its ready for pairing and also of the battery level on the device.
The keyboard does hold pretty steady if you put it in a flat surface but it does tend to flex quite a bit if you are typing with it on your lap for example. On a flat surface it does hold steady but does move if you put force. We feel a more elegant solution would have been to cover those screws with rubber bushes that would've stopped it from sliding and would've looked neater as well. But still it does pretty well.
Typing and Performance 
It is compatible with any Bluetooth powered device be it iOS, Android or Windows Phone. The keyboard is actually surprisingly easy to get used to and fast to type on. I was pleasantly surprised to discover this for myself when doing the unboxing and I was able to type an entire sentence with perhaps just 1 single letter being omitted. That is quite impressive and I decided to test it out further by typing this entire review out on the keyboard itself rather than using my laptop or external keyboard on my laptop for a change. I typed a majority of this review using the ZAGG Pocket in my car with the keyboard on my lap.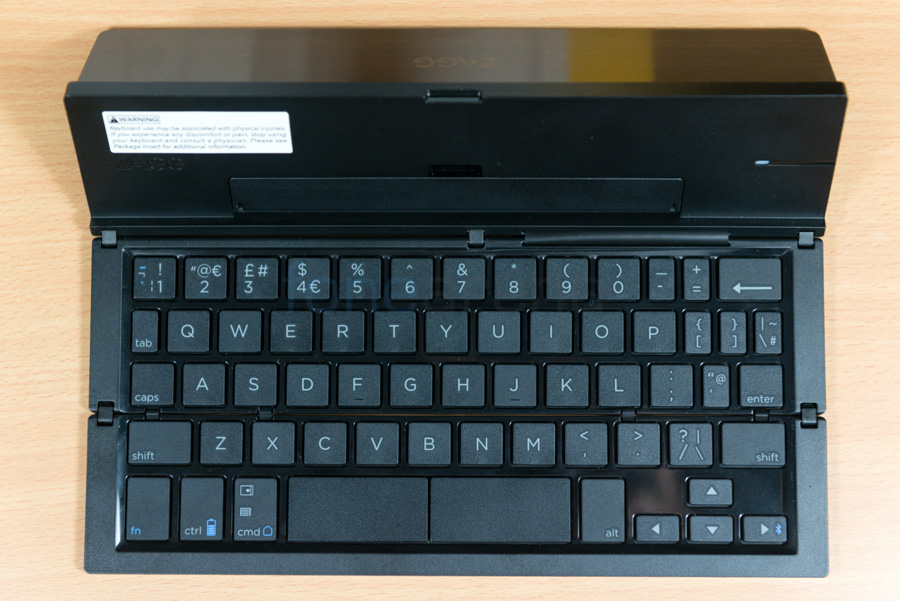 The keyboard flexing is the only issue I found when doing so but the accuracy and speed were still spot on. Apart from that it functions just as well as a regular keyboard and if you get a flat surface then you're all good. The primary reason for this is the layout of the keyboard and sufficient spacing between the island styled keys. The keys offers good feedback as well. There is no backlighting but considering how small it is, its hard to expect backlighting as well. There are a few shortcuts that can be accessed using the function key along with another button. One such thing is the battery level indicator which triggers the LED light on the ZAGG Pocket. Then there is the Bluetooth switch to turn the Bluetooth on or off. Lastly, you also have a home button that will take you to the homescreen on your smartphone.
Battery Life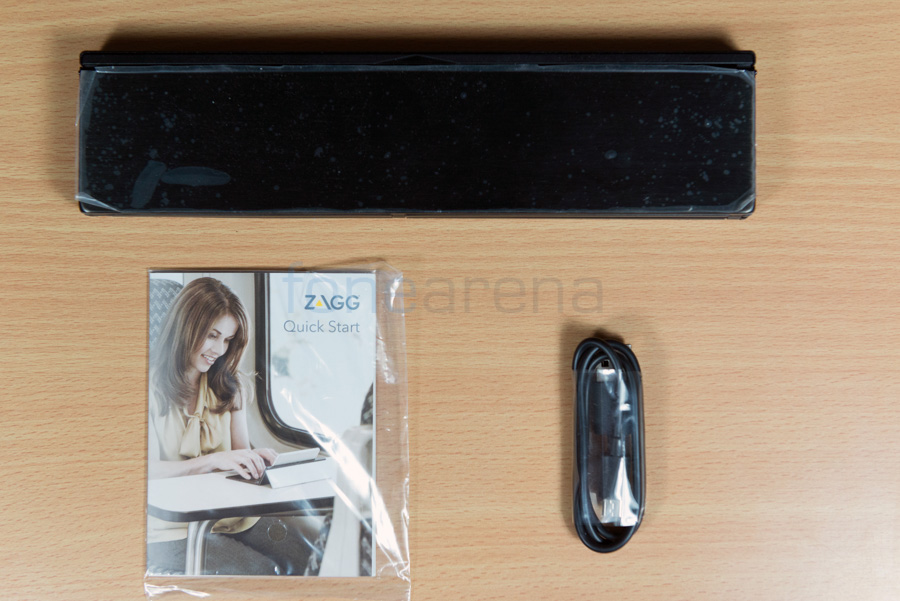 The ZAGG Pocket has a regular microUSB port that allows you to charge the device. There is an LED indicator that shows you the amount of battery life left. When it blinks red, you know you have to charge it. I am not sure how much the battery life is exactly. But I have been using the keyboard for around half an hour or so every 2 days for the past 3 weeks almost and it still hasn't died on me yet and hasn't showed a red light either. The keyboard automatically goes into a power saving mode when you close it or disconnect it from your device or turn the bluetooth off.
Conclusion
The ZAGG Pocket is a wonderful device that really boost your productivity on the go. I sometimes need to type out articles or long documents on the go and I have needed to take only this rather than having to lug around my laptop as well. Sure, there are some instances when you do need a laptop itself but this keyboard will help you travel lighter on quite a lot of occasions. The only real thing I would've liked on this keyboard is backlighting and perhaps we can expect that in the second generation device. It is a bit pricey at Rs5,399 (US$ 69.99) but if you are someone who needs a lot of word processing power on the go then this is one keyboard that'll make your life a whole lot easier.