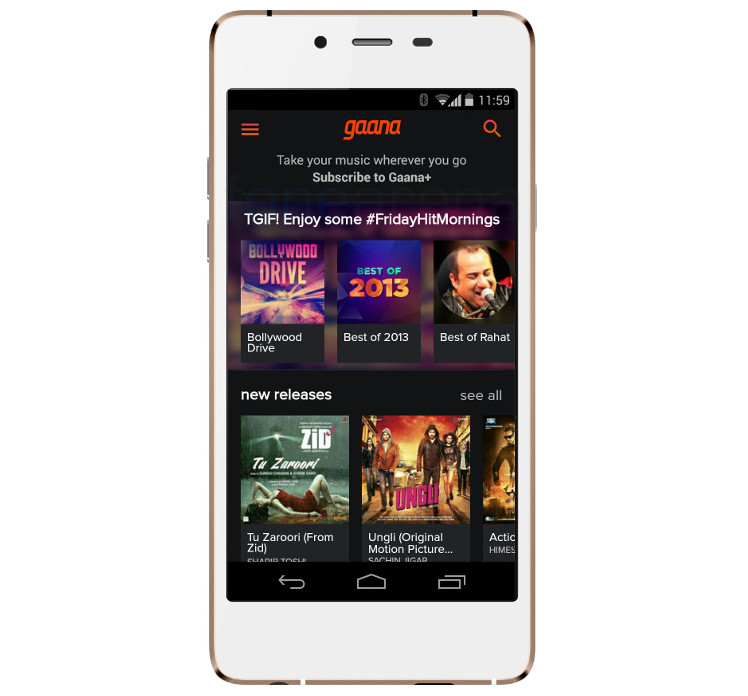 Micromax has invested in Times Internet's Gaana music streaming service. As a part of this investment, Gaana app will be pre-installed on all new Micromax smartphones. New users will get a free trial of premium service Gaana+, which offers unlimited music streaming without any ads. Gaana has 20 million active users and over 30 million downloads, said the company. The financial terms of the investment has not been revealed.
Earlier this year Micromax said that it is looking to invest up to $400 million in at least 20 start-ups across segments such as healthcare, entertainment and gaming. Back in February it acquired minority stake in an analytics firm.
Commenting on the new partnership with Micromax, Satyan Gajwani, CEO of Times Internet, said:
Gaana is becoming a household brand for music, and in partnership with Micromax, we will strengthen our footprint, helping us reach our goal of 100 million Indian users, listening to millions of songs via Gaana. Micromax is the most popular smartphone company in India, passionate about providing its consumers with the best experiences. It's a great opportunity to bring our service to their users.
Regarding the strategic investment in Gaana, Rahul Sharma, Co-founder, Micromax Informatics Ltd, said:
We at Micromax have been consistently integrating the best in class services to our smartphones and are trying to build an ecosystem of connected devices in a connected world. India is a music loving country and youth today are hooked on music for at least 2-3 hours a day through their smartphones. Gaana brings the widest selection of songs across genres and we are proud to announce our strategic partnership with them to provide our neo users an uninterrupted access to latest tunes and transcend them into the world of music.