Samsung has announced a line of products for the next generation of SmartThings Hub at IFA 2015.  The company has also launched new and improved hub along with a brand-new SmartThings app experience.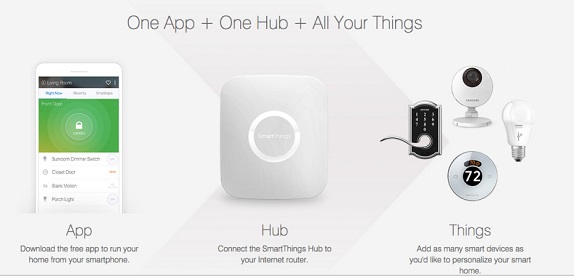 Samsung says that the new SmartThings Hub is equipped with a more powerful processor that enables video monitoring and a battery backup that lasts up to 10 hours in case of a power outage. The Hub is also able to process some automations locally without an internet connection. The collection of Samsung SmartThings sensors are now smaller and have been redesigned with a sleeker, more contemporary look. Samsung has also to introduce a new "Smart Home Monitor" feature that will give users a continuous video livestream. It operates around the hub to provide information about potential break-ins, smoke and fire alerts, and other household calamities via video clips and notifications that are sent to your smartphone.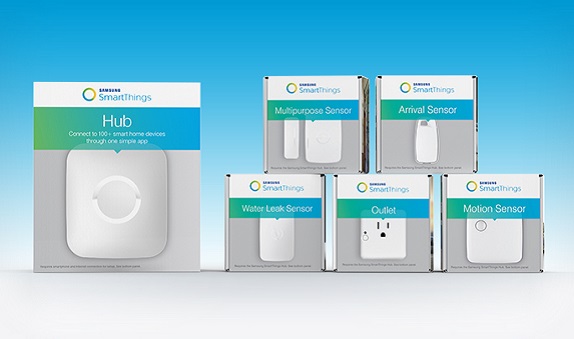 The hub can be used to connect things like security cameras, smart thermostats, and other smart home gadgets. It will work with a range of SmartThings-branded devices as well as other products from Samsung and accessories from Bose, Philips, Honeywell, Yale, LIFX, Aeon and others. Next up, the SmartThings app has also been redesigned for iOS and Android to include easier navigation and a more intuitive experience. Users can now directly organize and control devices by room, and customize actions to occur automatically based on preset routines. The Hub will continue to support ZigBee, Z-Wave, and local internet connected devices and it has also expanded support to nearly 200 compatible devices.
With this next major iteration of our products, we focused first and foremost on security and home monitoring to help answer the question, 'is everything okay at home?. This marks our first product launch as part of the Samsung family, and together we're continuing our commitment to deliver the easiest smart home solutions with a truly open 'Internet of Things' platform that maximizes collaboration and innovation across the industry."

said Alex Hawkinson, CEO and founder of SmartThings.
SmartThings is available for purchase on Shop.SmartThings.com, Samsung.com and will be rolling out on Amazon.com and retail stores across the U.S. The new Hub is priced for $99 with sensors ranging between $30 and $55 each. SmartThings will be available in the U.K. at select Currys PC World stores and online at Samsung.com and currys.co.uk beginning September 10. The Hub retails for £99 and the Starter Kit is £199. SmartThings also plans to expand across Europe in 2016.