Pushbullet for Android has received a major update that brings full SMS support for desktop and browser extension. The latest update syncs your conversations across the service's Windows and Web clients.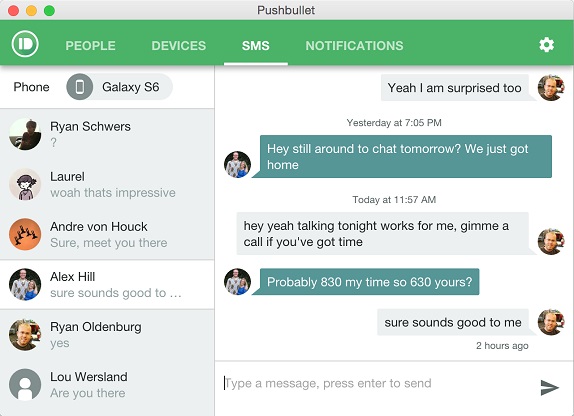 With the latest update users can now get full SMS experience on their desktop. Android users were previously able to see individual text messages on their PC and respond directly and now they get the entire history, threads that falls in line with UI of any instant messaging app. Users can search a specific conversation and scroll through the history. However, the feature doesn't support multimedia messages including photo and videos.
You can also have multiple conversations up on the desktop in floating windows—just hit the pop-out arrow next to a contact's name. These are chat heads in the Windows client, which is extra cool. This updated SMS experience is available now on Chrome and in the Windows app, but does require syncing with phones running Android 4.4+. Apple offers similar feature with iMessage for the iPhone and OS X. Pushbullet received a major update two weeks back that lets you transfer files easily between PC and Android devices.
Play Link –  Pushbullet