Microsoft Garage has launched a new app that lets you make plans with your friends easily. Dubbed as Tossup, the app helps a group of friends decide on a plan about where to meet, select a restaurant and so on.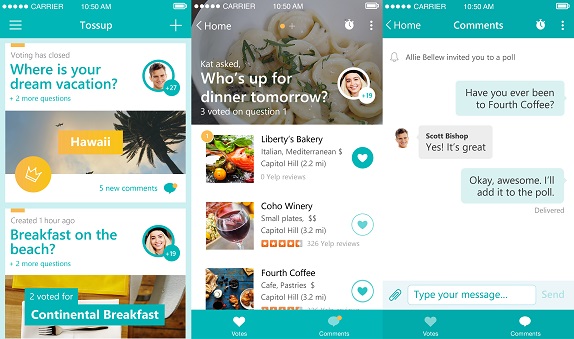 "It's an ideal tool to make decisions about timing, availability, what to do, nearby venues and spending limits. Information for restaurants is pulled from Bing – opening hours, reviews, addresses, etc. – to help make decisions. To get answers quickly, groups can add a countdown clock, then save the event to their calendars, turning those plans into reality."

posted Microsoft in a company blog.
The app lets you take a quick head count with yes or no responses and aims at taking decisions hassel free without to many back and forth texting for deciding on a certain topic. The Tossup app is the latest product of Microsoft Garage, a program where Microsoft employees and interns work on offbeat projects. Tossup was developed by a small group from within the Outlook team and was tested out among employees in-house. Available on Android and iOS , the Tossup app is currently available only in the U.S and Canada.