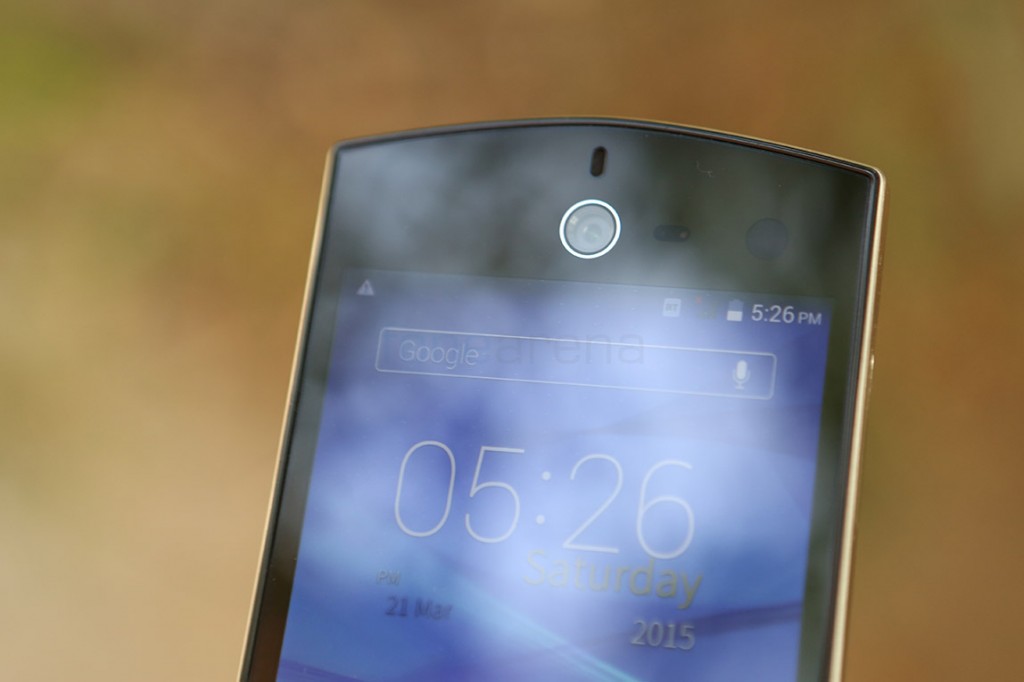 If there is one major concern with selfies, it's trying to look good in them. In our video earlier, we showed you how front facing cameras these days are now almost on par with the main cameras, with the example being the Micromax Canvas Selfie. The Canvas Selfie has the same 13 megapixel camera unit at the front and at the back, so the earlier problem of having better detail is now solved, but again, with it comes the concern of too much detail. You might have noticed the auto-beautification features in a lot of phones, which apply some post-processing after face detection, but with Micromax outright calling it a Canvas "Selfie", these features are built right into the camera UI. Let's take a look at them.
httpv://www.youtube.com/watch?v=fg4R7y9ZoFQ
There are 7 tools to help you take a cleaner selfie, by using face detection features. It recognizes your eyes, so you'll be able to whiten them, make them larger and sharper, with the first tool. The second tool helps thinning your face, by distorting it a little. The next tool is something that a lot of photoshop users use, smoothen, which is basically spot healing applied to the skin.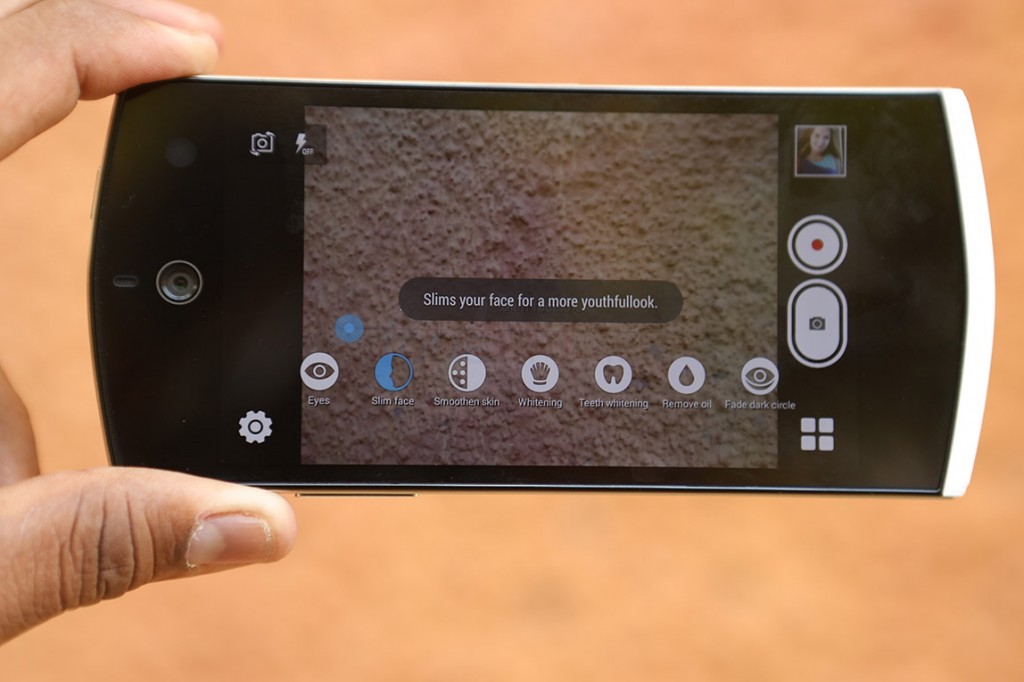 The next one is for skin whitening, which obviously is for brightening your skin tone. For example, if there are a lot of shadows, this might be useful. This applies for your teeth too, in the next one. With remove oil, you can remove the reflection on your face and finally, if you have just woken up for a selfie, you can even fade your dark circles. All these tools work on software-based face detection techniques, and because of the high amount of detail it is left with, the processing is highly accurate. All the tools have their own levels, in percentages, which is upto you to fully manipulate. There are live previews, so you cannot change anything after the photo is taken, but of course, there are other things you can do after taking a photo.
httpv://www.youtube.com/watch?v=FQiWkgKVdaE
As you saw, after taking a selfie, you can do a lot more. We know this sounds crazy, but you can actually apply make up on your photo.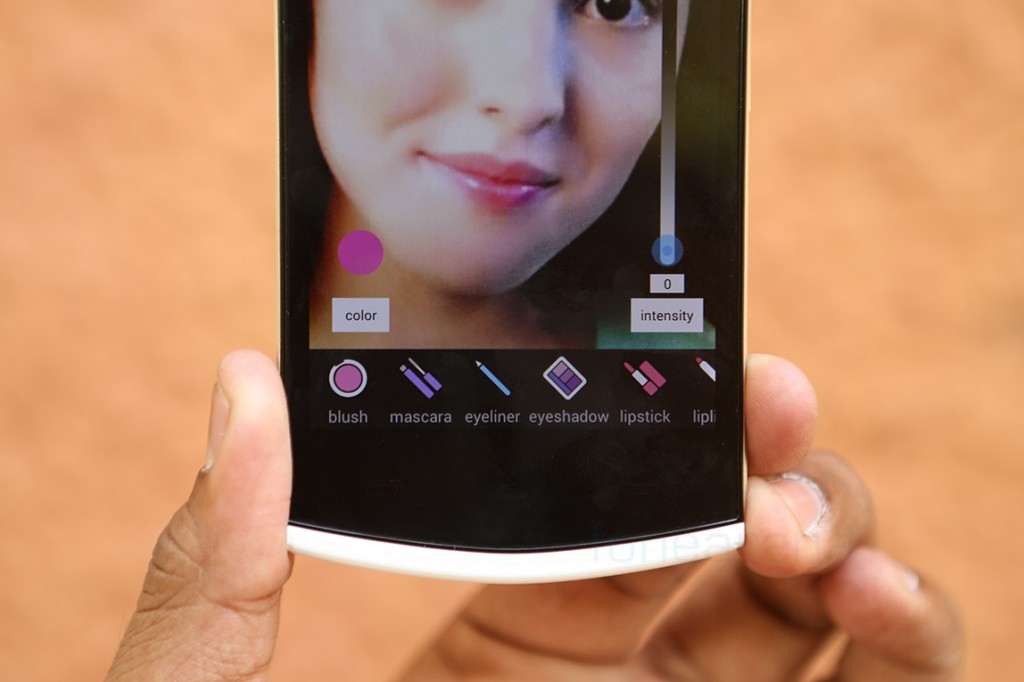 When you hit this pink button after taking a photo, it gives you a mildly enhanced photo with an option to manually edit the facial features it has recognized. You can change the exact selection around the eyes and the lips, so that the software features you are adding look authentic. Once done, you get a full fledged menu for various make up features, which includes various sub-menus and so forth. The features must be very familiar with women who use these tools in real, every day.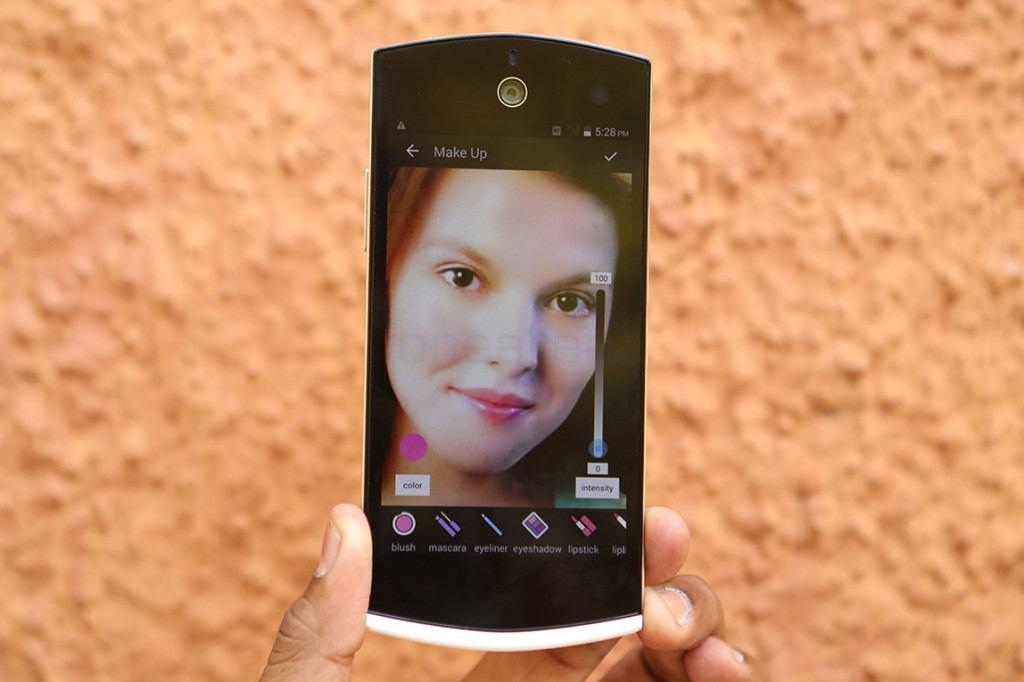 Once you are done, the image is saved in a separate folder in the gallery, which you can access and share. With a heavy focus on selfies, the Micromax Canvas Selfie has all the necessary features out of the box. Usually, you don't have much detail to work with, but the Canvas Selfie changes that. Face detection works better and you can do all sorts of things with more accurate detail. But all said, how does it compare with the other front facing cameras in the market? Find out in the next feature.