Wikipedia has updated its Android app with Material Design features. The latest update brings a refreshed look to the app and improves the UI and search.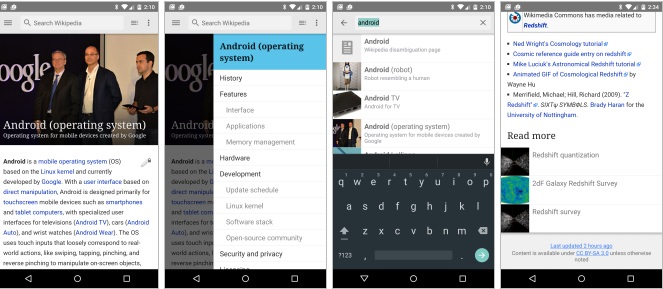 First up, the app puts more focus on images and articles now feature a contextual header image and tapping other pictures displays them in a pop-up with a caption. Users will not need to text re-size in order to match their device as images expand and fit to your screen in a tap. Now a;; galleries of images are organized in a swiping format.
'Read More' section at the end of each page will show links related to the article. The search functionality has been improved and includes more defined and higher contrast search bar and a list of recently searched topics. Finally, the latest update adds an image viewer that allows users to view a larger version of any image via a pop-up panel (image appears unobscured if tapped on) and swipe left or right to view the previous or next image.
App Link: Wikipedia