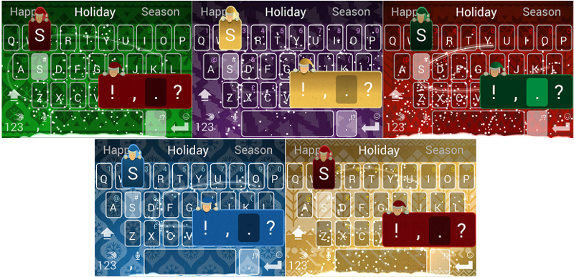 Swiftkey for Android has been updated to version 5.1.2 that brings major performance fixes including additional improvements to typing responsiveness, enhancements to the SwiftKey Store and multiple bug fixes. The update also brings new pack of themes called Gift Wrap. Check out the list of themes. These are priced at $1.99/99p/Rs.59 each or $4.99/£2.99/Rs.179 for the pack.
Gift Wrap – This pack of special themes will add a decorative twist to your keyboard as you type messages to friends and family.
Gift Wrap Green – features a wrapping paper design and adds a festive twist to typing emails and SMS this holiday season.
Gift Wrap Red – Carries the same motif and could suit anyone looking to add a flash of color to their cell or tablet – or match a red device.
Gift Wrap: Gold – For a more metallic feel, this features a skiing pattern, perfect for those dreaming of snow.
GiftWrap Blue –  It is adorned with snowflakes, bringing a cool-as-ice look to your mobile.
Gift Wrap Purple – If you look closely, you'll see a tree design that's perfect for anyone celebrating Christmas.
You can get the latest update from Google Play and download the themes from the SwiftKey Store inside the app. SwiftKey Beta has also been updated with these improvements and new themes.