Worldwide smartphone shipment will reach 1.3 billion in 2014 reporting an increase of 26.3 over last year's total shipments, according to a latest report from IDC.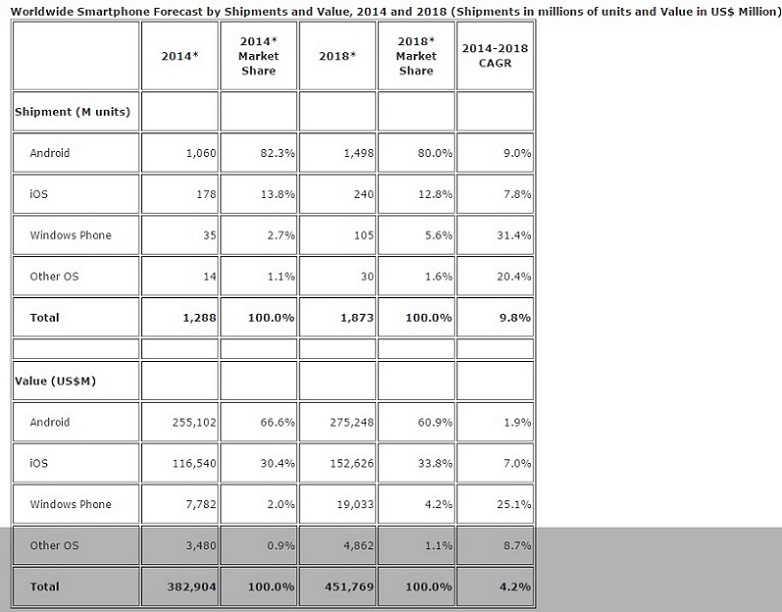 The research firm predicts that 1.4 billion smartphones will ship in 2015, which is most definitely growth, but only represents an increase if 12.2 percent over 2014. Slower annual growth continues throughout the forecast with unit shipments approaching 1.9 billion units in 2018, resulting in a 9.8 percent compound annual growth rate for the 2014-2018 forecast period.
"The impact of upstart Chinese players in the global market will be reflected in a race to the bottom when it comes to price. While premium phones aren't going anywhere, we are seeing increasingly better specs in more affordable smartphones. Consumers no longer have to go with a top-of-the-line handset to guarantee decent hardware quality or experience. The biggest question now is how much lower can prices go?"

said Melissa Chau, Senior Research Manager with IDC's Worldwide Quarterly Mobile Phone Tracker.
IDC expects the emerging markets will account for a good deal of growth, and prices will drop accordingly. The average smartphone selling price in 2014 is about $241 worldwide, but in emerging markets like India prices are averaging $135, said the report. Android will continue its dominance  and drive shipment volumes while iOS devices will drive revenues. IDC said Android's dominance will hurt new operating systems like Tizen and Firefox.
By 2018, Android will control 80% of global smartphones shipped and 61% of revenues, while iOS will control only 13% of volumes and 34% of revenues. Apple will ship 178 million iPhones in 2014, giving it a market share of 14 percent, according to IDC, while Microsoft's Windows Phone will account for 35 million shipments with a market share of just below 3 percent.
Last week IDC reported smartphone and tablet market for Q3, 2014.