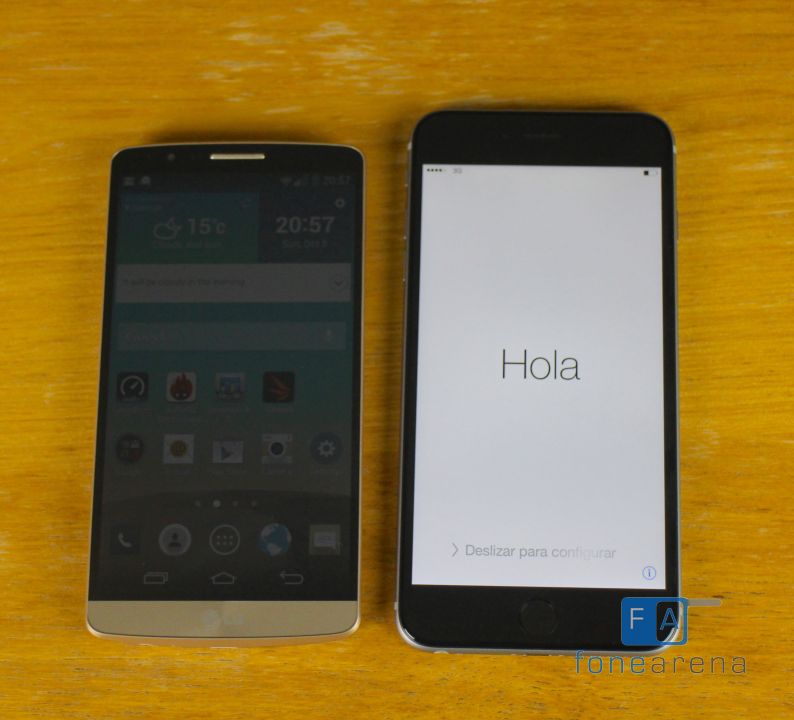 When considering the performance of a handset, attention is inevitably turned towards benchmarking applications such as GeekBench 3, 3D Mark and AnTuTu (to name a few). When comparing performance across iOS and Android, the number of compatible benchmark applications are limited but both GeekBench 3 and 3D Mark reveal some interesting facts. Comparing the iPhone 6 Plus and the LG G3, we can see some interesting facts about the optimisation achieved by Apple and LG in each handset.
Apple is unique as they control both the hardware and software elements of their handsets whilst LG (and other Android OEMs excluding Google) have to compensate for a lack of deep integration with the core OS by using much higher specs. To compensate, LG have included a premium specs list including a quad-core 2.5GHz Qualcomm Snapdragon 801 processor and 2GB RAM with 16GB storage (our version) or 3GB RAM with 32GB storage. In comparison, the iPhone 6 Plus has a dual-core Apple A8 CPU, 1GB RAM and 64GB storage (there's also 16GB and 128GB iPhone 6 Plus variants available). Will the iPhone 6 Plus win this benchmark comparison?
httpv://www.youtube.com/watch?v=55OgId4gR3Q
Well that's interesting – the iPhone 6 Plus beats the LG G3 in all the tests. In the Geekbench test, the iPhone 6 Plus rocks both the single core and multi core tests with the Galaxy S5 pushed back whilst the LG G3 is better in the single core test than in the multi core test. In the 3D Mark test, the iPhone 6 Plus isn't top of the pile as its score of 17904 places it between the Xperia Z3 and HTC J Butterfly but it does fare better than the LG G3, whose much lower score of 16022 ranks it much lower down the chart between the NVIDIA Tegra Note 7 and Pantech Vega Secret Up.
Overall the tests show that the iPhone 6 Plus trumps the LG G3 in the Benchmark comparison tests. Whilst the overall result is unsurprising, the margin of victory is quite substantial. Whilst Apple reap the benefit of integrated hardware and software, LG's own user interface contributes to the lower score.
Special thanks to Three UK for lending us the iPhone 6 Plus and Vodafone UK for lending us the LG G3.