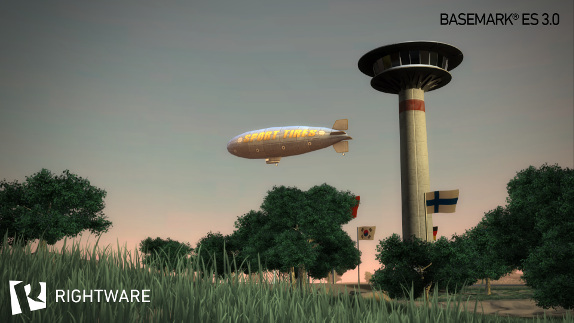 Rightware, popular for its benchmark tools like Basemark has launched Basemark ES 3.0 benchmarking software for mobile devices with new OpenGL ES 3.0 graphics API, which is available in the latest Android and iOS smartphones and tablets. This enables unprecedented graphical fidelity in graphically rich apps such as games and navigation.
httpv://www.youtube.com/watch?v=YyBUWqp4vA8
Basemark ES 3.0 is the result of three years of high skilled engineering by Rightware. The product was developed in close cooperation with industry leading device manufacturers and semiconductor companies that are members of Rightware's Benchmark Development Program, says the company.
Highlights of Basemark ES 3.0
Built on Rightware's Kanzi 2.0 engine, which enables the development of visually advanced applications with 2D and 3D content on any platform supporting OpenGL / OpenGL ES standards.
Access to up to four simultaneous render targets
Ability to apply anti­‐aliasing to render targets and provides more varied internal data types for these buffers such as floating point color targets.
Support for 3D textures, instanced rendering, transform feedback and occlusion queries
Commenting on the new Basemark ES 3.0 software, Tero Sarkkinen, General Manager Benchmark Business, said,
OpenGL ES 3.0 is a big step in closing the gap between mobile and desktop computer graphics. We are very excited to launch Basemark ES 3.0 to the world. Media and the industry can now perform trusted benchmarking of cutting edge mobile devices, using a high quality testing tool which they have come to expect from Rightware.
Basemark ES 3.0 is available for licensing now for Benchmark Development Program members and will soon be available to non-members too on Android and iOS.