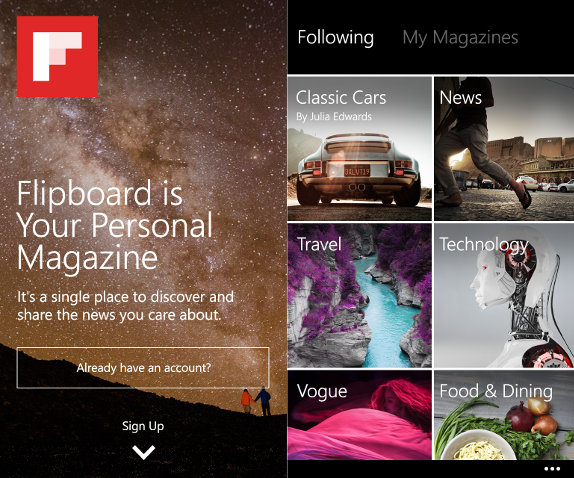 Flipboard for Windows Phone that was released as private beta last month is now available for all the Windows Phone 8.1 users with at least 1GB of RAM. Flipboard for Windows Phone was announced last year, and it took more than year to release. The design is similar to other platforms, it lets you subscribe to different sources of curated content including social networks like Facebook and Twitter. You can swipe through all the news, articles, and updates.
httpv://www.youtube.com/watch?v=9W_Lc1yUacA
Highlights of Flipboard

Cover Stories is central: After you pick a few topics for your magazine, Flipboard takes you directly to your Cover Stories. Cover Stories collects highlights from everything you're following and gets more personalized as you add new things to your Flipboard.
Search and follow more sources: Continue to customize your Flipboard by tapping on the search icon in the top right corner. Enter keywords to find articles, photos, publications and Flipboard magazines, or browse through sections like News, Tech, Travel and Design. Open the app bar (it looks like three dots) on any story for the options to Share it or Follow the story's source.
See everything you're following: All the sources you've followed are listed in one place. Tap the menu icon in the top left to find everything on your Flipboard, including the sources you've added and the magazines you've been making.
Share to other Windows phone apps: When you find something you think is interesting on Flipboard, you can share it to other Windows phone apps. Tap the share icon on articles, photos and videos to send it as a text message, email, social media post and more.
Flipboard for Windows Phone 8.1 is available from the Windows Phone Store for free.