Fashion watch maker Martian Watches has introduced a smartwatch in India that is exclusively available on Flipkart. Priced at Rs 9,999, the Martian Notifier smartwatch is compatible with iPhone and Android devices.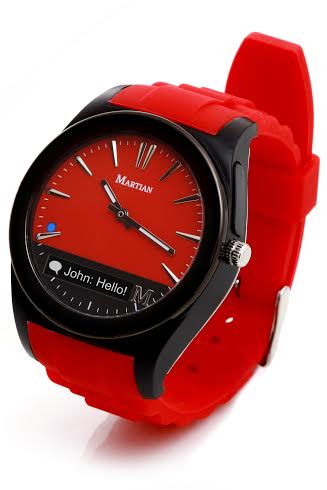 Users can easily pair the smartwatch with their smartphone by using the Martian Notifier App. Martian Notifier analog smartwatch gives the wearer the ability to receive real-time alerts and notifications on your wrist –including caller ID, texts, Facebook, Twitter, Weather and email. It is compatible with 5th Generation iPod Touch, iPad Air, iPad Mini, 3rd Generation iPad, iPhone 5S, 5C, 5, 4S, Android Smartphones with 2.3.3 or Later, Android Tablets with 2.3.3 or Later, 96 x 16 Pixel Graphic OLED Display.
"Bringing the Martian Notifier to a worldwide market, especially a major growth market for consumer electronics such as India, provides a unique opportunity to set standards in the Indian wearable tech market with our world class quality and great value.Consumers in India are looking for wearable technology that melds well into their daily lives with a personalized digital experience, and we feel a smartwatch design with style like ours is just the thing they are looking for and Flipkart is the ideal partner to help make this available to them."

said Jeffrey Hsieh, CEO of Martian Watches in an official press release.
The smartwatch does not support voice command, a feature that is seen on most of the smartwatches these days. It is 12.7mm thick and weighs 52 gms. The Martian Notifier smartwatch is available for pre-order only on Flipkart and will go on sale in early October.