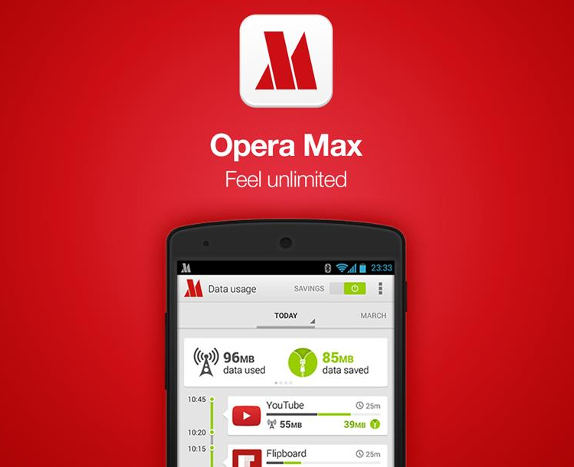 MediaTek has  entered into a partnership with Opera Software to embedded Opera Max data saving app into the MediaTek's new 64-bit LTE SoCs MT6752 and MT6732. Both these chips are targeted at super-mid market where consumers are seeking high-performance smart devices at an affordable price. This would enable smartphones powered by these chips to consume half as much the data within the same monthly plan at no extra cost, says Opera.
Opera Max compresses and reroutes data to the data-savings cloud using a Virtual Private Network (VPN). All non-encrypted data requests (excluding websites and apps with HTTPS connections) are sent through Opera Software's compression servers, which optimize video, images and websites to use less data.  Users can easily monitor and manage the mobile data consumption of each app from Opera Max's dashboard. It also reminds users when they are roaming.
Commenting on the partnership, Jeffrey Ju, General Manager of the MediaTek Smartphone Business Unit, said
This partnership validates MediaTek's commitment to developing powerful and affordable chipsets to help manufacturers spur smartphone adoption in the Super-mid market – a new market structure comprising an unprecedented volume of premium mid-range devices worldwide. We want consumers to fully enjoy the 4G LTE multimedia experience while minimizing data costs associated with powerful smartphones.
Lars Boilesen, CEO, Opera Software, said
As mobile consumption grows with new data-hungry apps and mobile videos, compressing mobile data is more important than ever. Opera has been a leader in mobile data compression for almost a decade, bringing millions of people online by lowering the barriers for accessing and enjoying the web. Today, we work with MediaTek, a market leader in cutting-edge system on chips for wireless communications, bringing Opera Max to their LTE chipsets and preparing smartphones for the next wave of data usage. Together, we are pushing the envelope for the entire mobile industry.