We have been hearing a number of details and rumors about Samsung's upcoming smartphone 'Galaxy Alpha' for quiet some time now. The phone which was recently approved by FCC was spotted in white color with metal sides last week.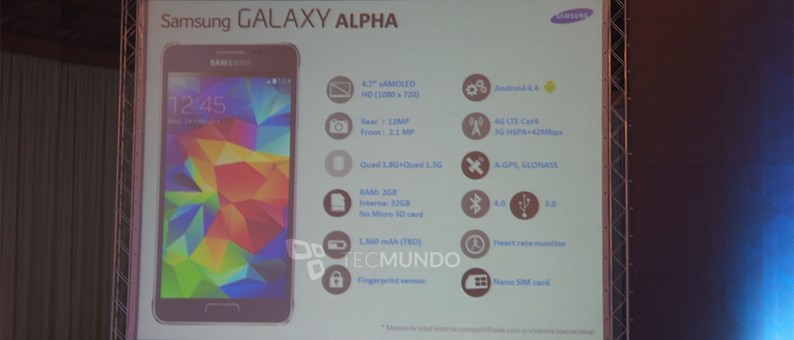 Today, a leaked photo has revealed full specifications of the Galaxy Alpha that has still not been officially announced by Samsung. As per the photo, the device will sport a 4.7-inch screen with 1080×720 Super AMOLED display. It will be powered by homemade Exynos octo-core processor, with CPUs running at 1.8GHz and 1.3GHz and have 2GB RAM and 32GB onboard storage without the option to expand using microSD cards.
In addition the image shows that the Galaxy Alpha will boast of 12 MP rear and 2.1 MP front camera. The phone will also come equipped with a fingerprint sensor and a heart rate monitor and run on Android 4.4. Other specs include 1860mAh battery, 4G LTE, USB 3.0 and Bluetooth 4.0.
According to Tecmundo's source, the Alpha should launch in Brazil in the second part of August or early September, and should hit the shelves by October. It will be priced at R$2,399, or about $1,048. The Samsung Galaxy Alpha has made a surprise appearance at a Russian social event
via:SamMobile