Google is developing a Knowledge graph tool that pulls data from Wikipedia to create interactive timelines based on the item being searched.  The feature generates content from Wikipedia in a periodic manner about search queries.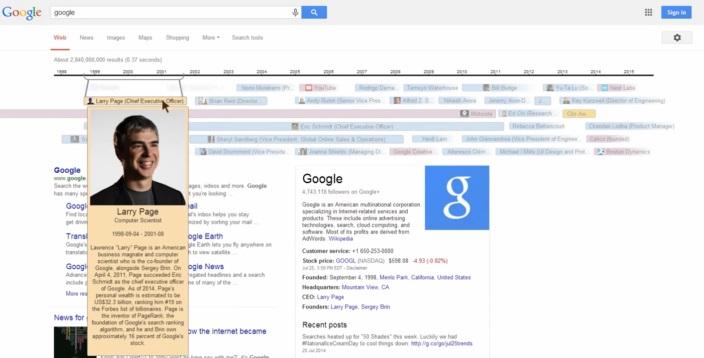 Chrome and Search enthusiast Florian Kiersch has posted screenshots of a new Knowledge Graph tool that automatically generates timelines of broad historical topics that are taken from Wikipedia. Kiersch gave a gist of the feature with few examples where a simple search for 'Google' showed all the details about the company, its founders and other important events in an yearly order. Another screenshot related to a search about World War I showed a timeline  above your main search results. These interactive search results can be navigated by a user.
Kiersch stated that the new search feature is in its nascent stage and will be ready in about three months. It is not clear if the feature is limited to only desktop or mobile. He has also posted a small video on its Google+ page that showcases the feature.
via:9to5Google