Google has released its monthly numbers for android distribution for July. Android KitKat is now running on 17.9% of Android devices reporting a 4.3% increase over last month when it stood at 13.6%.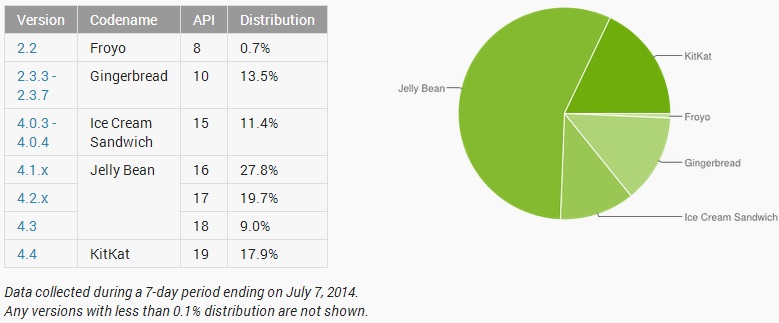 Jelly Bean which is present on largest number of devices reduced its market share for the first time. Android 4.1-4.3 Jelly Bean dropped from 58.4 percent last month to 56.5 percent this month.
Remaining older version of Android are continuing their decline as Ice Cream Sandwich declined from 12.3% to 11.4% while Gingerbread has fallen from 14.9% to 13.5%. Froyo saw a minuscule dip with mere 0.1% and last month Google removed Honeycomb from the chart as it reached the <0.1% mark
Android KitKat numbers will only grow from here as major flasghip and budget smartphones are getting 4.4 update. Several companies have started releasing smartphones running Android 4.4 out of the box.