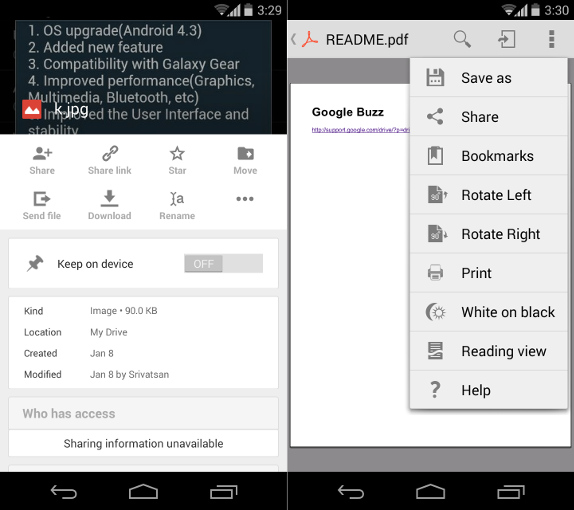 Google updated Drive app for Android to version 1.32 earlier this month with new UI and new animations. At the Google I/O earlier this week it announced updates for Google Drive for Android and iOS with support for editing Microsoft Office files. Recently the Google Drive app for Android got updated to version 2.0 that brought several new visual changes that lets you access all the new features easily.
Once you click the info button next to a file, you get a detailed option to share, share, start, move, send, download, rename, remove and print. You can also toggle keep on device option to store it offline and also manage access to the file, added new people for sharing it and also view detailed activity to find if any changes are made to the file. These are the major changes in the new update.
At Google I/O Google introduced Drive for Work plan with unlimited storage,  aimed at the enterprise at $10 per month, per user. It also launched Google Slides app to view and edit presentation files.
Download Google Drive 2.0 for Android from Google Play.