Google is now improving its payment system for Google Play Store. The company is adding PayPal as new payment option which will enable users to pay for apps, movies, games and books. This is the first time Google has integrated PayPal as its app payment option.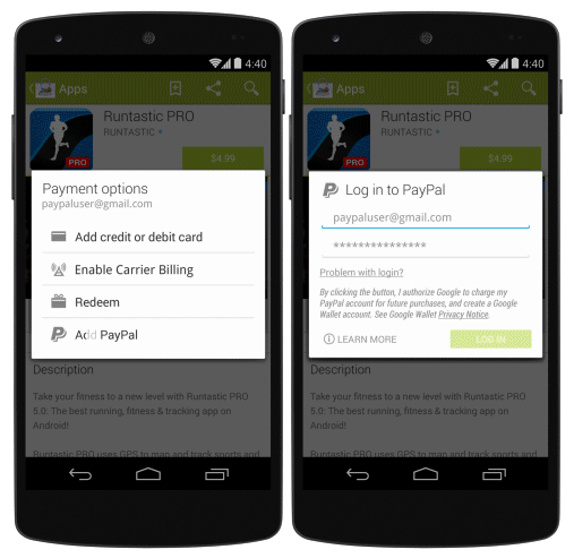 Prior to this, the Play Store only supported credit card, carrier billing, and a gift card. Moreover, in-app purchases can also be bought with the online payments provider. The PayPal support is coming to twelve countries, including the U.S., Germany and Canada, as well as Austria, Belgium, Finland, France, Ireland, Italy, Netherlands, Spain and the United Kingdom. Sadly India is not included in the list.
Sales of apps and games on Google Play are up by more than 300 percent over the past year. And today, two-thirds of Google Play purchases happen outside of the United States, with international sales continuing to climb. We're hoping to fuel this momentum by making Google Play payments easier and more convenient for people around the world. posted Ibrahim Elbouchikhi, Google Play Product Manager, on Android Developer Blog
Users will be able to add their PayPal credentials to their Google Wallet accounts when they go to purchase an app. Along with PayPal support, Google is also spreading carrier billing and Google Play gift cards to more countries. Carrier billing is now available in a total of 24 countries, while gift cards are now available in 13 countries. As for developers, Google is adding 13 new countries and introducing improved currency support.