Facebook has revealed some important numbers in its latest Q1 earnings call of 2014. The social network reported that it has more than 1.28 billion monthly active users on mobile and desktop and over 1 billion monthly active mobile only users.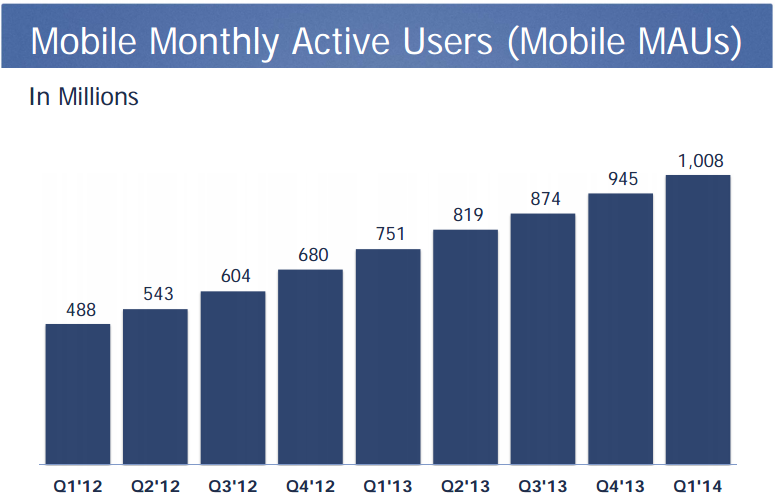 To be precise, Facebook had 1.01 billion monthly active users at the end of Q1, 2014 which is up by 34 percent year over year. It also had 609 daily active users in the first three months of 2014. Facebook has been strongly focusing on it mobile offerings since it went public in 2012. CEO Mark Zuckerberg revealed that Facebook Messenger has 200 million monthly active users. Earlier this month Facebook announced that there are over 100 million monthly active users in India.
Facebook's business is strong and growing, and this quarter was a great start to 2014. We've made some long term bets on the future while staying focused on executing and improving our core products and business. We're in great position to continue making progress towards our mission."

said Mark Zuckerberg, Facebook founder and CEO, in the earnings release.
Beating Wall Street expectations, Facebook reported $2.5 billion in revenue, a 72% increase over revenues from Q1 2013.  Facebook recorded 59% of advertising revenue from mobile, as compared to 30% a year ago. The company is expected to reveal a new mobile ad network soon.
 Via: Mashable