Toshiba has taken wraps off its latest microSD memory cards which the it claims are the fastest in the world. The new cards comply with the UHS-II interface standard, the ultra high speed serial bus interface defined in the SD Memory Card Standard Ver. 4.2.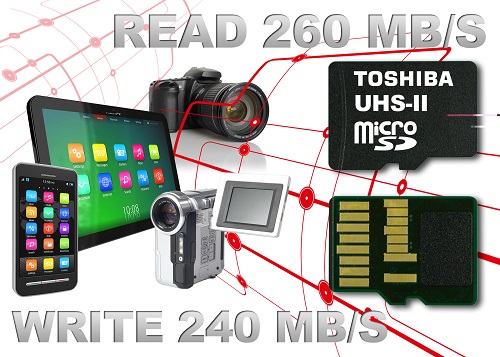 UHS Speed Class 3 (U3) enabled, the memory cards allow high-quality 4K video capture at constant minimum write speeds of 30MB/s. The memory cards are available in 32GB and 64GB variant. Toshiba claims that the 32 GB microSD memory card can attain 130 MB/s when writing data and 145 MB/s when reading.
According to the company this is an upgrade if compared to Toshiba's current 32GB microSD UHS-I cards with 8 times write speed improvement and 2.7 times read speed improvement. On the other hand the 64 GB card can sustain 240 MB/s when writing and 260 MB/s when reading.
These faster transfer speeds reduce the time required to download large data movie and music files to smart phones and tablets, and enable camera users to shoot high resolution digital still images in a continuous high speed shooting mode. The memory cards can be also useful for 4K2K video recording and live broadcasting. Toshiba has not revealed the prices for both the memory cards yet.
Earlier this month, Sony launched 64GB UHS-I class 10 high-speed microSD card. Sandisk introduced 128GB microSDXC memory card earlier this year.