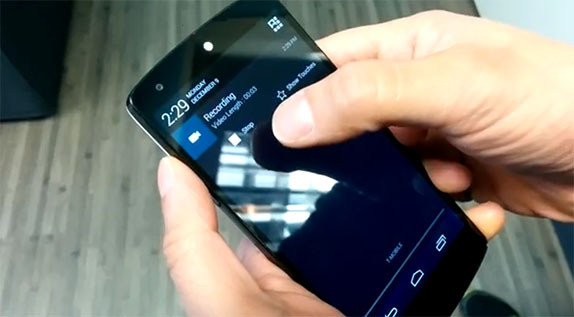 Cyanogen Mod developer Koushik Dutta, widely known for his ClockwordMod utility, which is the go-to custom recovery for Android devices, is also known for developing other utilities like an Allcast app that can stream from Android to Chromecast as well as Apple TV. Now he has released an app called Screencast(beta) that can record any rooted Android 4.4.1 device's screen, with audio. Initially made available as a developer-only feature, one had to type a command in ADB to enable screen recording on any KitKat device, but thanks to the Screencast app, now it is available right on your device, with some unique additions like a quick shortcut – Volume up + power to start screencasting. It is demonstrated in this video here –
Recording your Android phone's screen might be useful for a number of cases, but this is a god send for developers who wish to replicate and test bugs while on the go, and away from a desktop. This should be immensely useful for that, and of course for normal users who just want a screencast of something awesome or weird that happens on their phones, or inside games. And in case you are wondering, Android has hooks for content developers to put in a prevention mechanism so that screencasts cannot be activated during movie playback or anything. This is assuming the app works using KitKat APIs.
Anyways, here's a direct feed from Koush's own Screencast, showing off how the recording works –
It is a bit slow, like every other solution, but this is something that had to appear on the user facing side of things when the update released, and now it has, thanks to the CM dude. Currently, Nexus 5 is the only device running Android 4.4.1, but if you are feeling adventurous, you can install the latest CM 11 Nightly if it is available for your device and try this out. In case you are already running a CM11 Nightly, you can download this app directly from the Play Store, considering you are already in for beta testing, as this is clearly a beta app.
Source Google Plus Google Play link
via Engadget