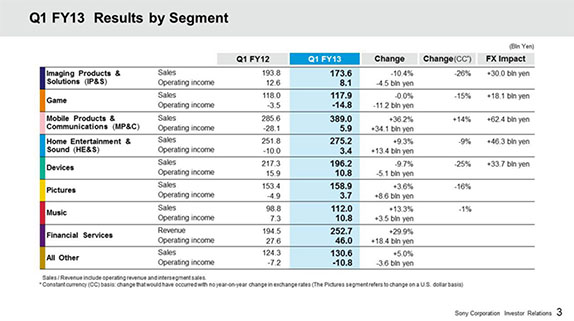 Looks like Sony is back in the game, especially in mobile! The Japanese company has just reported its first quarter FY 2013 results and has beaten expectations set by analysts. The increased performance is due to, you guessed right, its mobile division. While it posted huge operating losses last year, the division has gained 36% YoY, posting an operating income of 60 million USD. The company's overall net profits stand at a small 35 million USD, which is not huge by any means, but posting profits after struggling for the past year should be encouraging for the consumer electronics giant.
The mobile division was specifically boosted by the flagship devices like Xperia Z and Xperia ZL making their presence felt in major markets. The Xperia Z, although a lack luster product when compared with the other flagships, seems to have sold well, thanks to the widespread marketing. Also, this has increased the overall ASP, translating into better revenues for the company. The same division also saw a rise in the shipments of its mobile camera sensors with various companies opting to use its products.
Shipping a total of 9.6 million units this quarter, Sony is ahead of Nokia and is almost as good as LG and Lenovo and the other double digit performers this quarter. Looks like Android OEMs other than Samsung are finally getting the attention they deserve. Lets hope that Sony can steer its ship back into the glory days soon. More information in the source link, of you are into financial numbers and other Sony divisions.