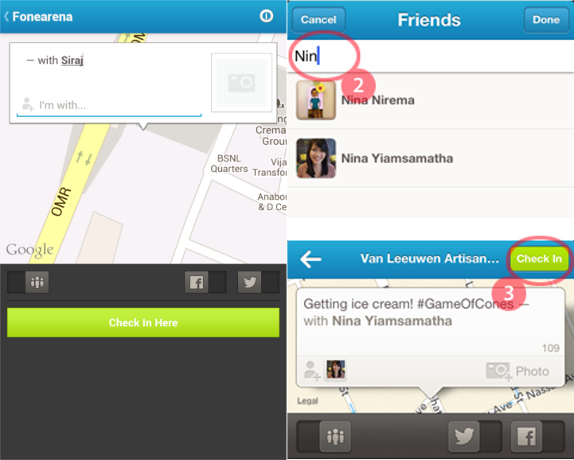 Foursquare has updated both the Android (v2013.06.25) and iPhone (v6.2.2) apps that brings new features including option to check in your friends when you're out together. Last year both the Foursquare apps got option to mention your Foursquare friends in your check-in, now the new check-in option to check-in everyone.
You can tag your Foursquare friends in the "I'm with" option in the check-in screen after selecting a place. After that your friend would get a notification asking for permission to let you check them in. Once they accept it  they'll get checked in and you'll also be able to check them in in the future. If they reject, they'll be mentioned in the check-in as usual.
If you check in at the same place, before or after the friend check-in, yours will be the only one we show that would let you add a photo or add comment. There also a delete button to remove the check-in with one tap.
Download Foursquare for Android and iPhone, if you don't have them yet.