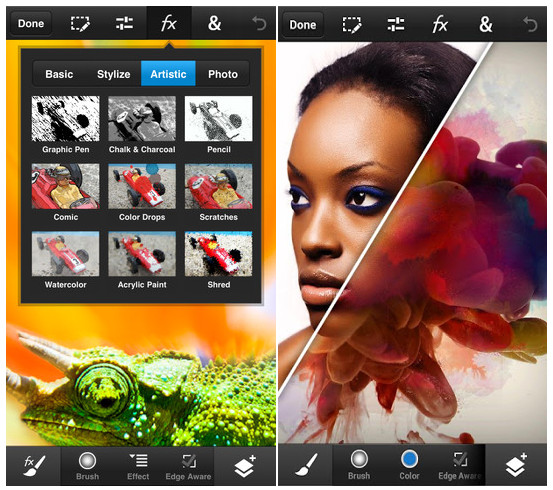 Adobe released the Photoshop Touch for Android Tablets back in November 2011 along range of Tablet apps, and the Photoshop Touch for iPad was released last February. Now the Adobe has released Photoshop Touch for iPhone and Android smartphones. The Photoshop Touch lets you transform images with core Photoshop features. You can combine images, apply professional effects and share them easily.
Features of Adobe Photoshop Touch for phone
Use popular Photoshop features, such as layers, selection tools, adjustments, and filters, to create mind-blowing images.
Apply precise tone and color adjustments to your entire composition, a particular layer, or a select area.
Create something other-worldly using painting effects, filter brushes, and so much more.
Make your images pop with graphical text. Apply strokes, add drop shadows and fades, and more.
Fill an area on a layer with the unique Camera Fill feature.
Quickly combine images together
Start a project on your phone and finish it on your tablet (Using Photoshop Touch for Tablets) or back in Photoshop (CS 5.1 or above) with Adobe Creative Cloud. Projects are synced between your devices.
Free membership to Creative Cloud provides 2GB of cloud storage.
Work on high-resolution images while maintaining the highest image quality. Images up to 12 megapixels are supported.
Download Photoshop Touch for phone for Android from the Google Play Store and for iPhone from the Apple iTunes Store for $4.99 (Rs. 270).