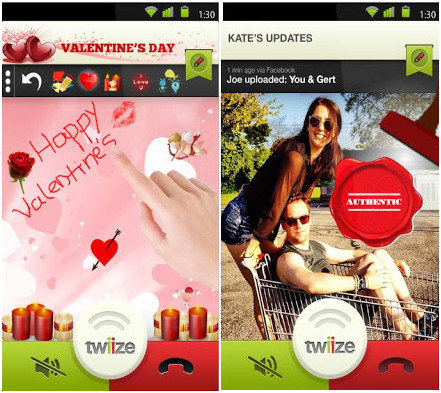 Twiize: Full Screen Caller Fun, a visual call enhancer app for Android was released in December. Now the app has been updated with interactive Valentine greeting feature, just in time for the Valentine's Day. This feature lets people send their personalized greetings to their loved ones in real-time, while they are talking to each other.
The Twiize for Android app lets you instantly send photos, draw and exchange sketches and personalized notes, and view each other's Facebook timelines during a phone conversation. The new update also brings Twiize stamps that would let you comment on Facebook posts and option to set Twiize to open on every call, or only for Twiize contacts.
Features of Twiize for Android
Get a birthday reminder and send happy birthday cards, while talking on the phone
Browse through their recent Facebook activities, with full screen caller id photos and statuses
Draw and send each other personalized notes, scribbles and funny doodles
Send photos from camera or gallery
Get a birthday reminder and send happy birthday cards to a friend, while calling, even if they don't have Twiize
Download Twiize for Android from the Google Play Store for free.