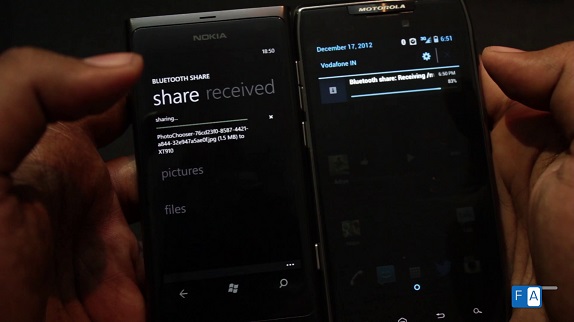 Earlier, we had reported that the latest update of Windows Phone for the current 7.5 devices, the Windows Phone 7.8 has started rolling out to the Nokia Lumia 800 worldwide. We had went ahead with a shortcut for getting the Windows Phone 7.8 onto the Nokia Lumia 800, by flashing an official copy from the Navifirm servers onto our devices. Our first attempt went in vain as we were not able to get the complete set of features that is supposed to have come with the Nokia specific Windows Phone update. So, we gave it another try, and then we had two new apps sitting on our device, Bluetooth share and Ringtone maker.
These two new apps provide the most wanted features that have been requested by long time Windows Phone 7.5 users as the key missing ones. So, without further ado, go ahead and watch the video demo of these two new apps that are exclusively available for all Nokia Lumia Windows Phones running Windows Phone 7.8 –
As you can see above, the Bluetooth sharing actually works and the ringtone maker app seems very handy. You can share pictures and music alone while inside the app, and only when it is running, which is kind of limiting the full experience, but hey, something is way better than nothing. The ringtone maker too, makes it extremely easy for you to set up your own ringtones, without going through complicated procedures just to even add a ringtone earlier.
Two welcome additions to Nokia's Windows Phones and these two new apps, along with the other features previously demoed in the other video might keep the existing users happy for a while.
On a side note, If you are looking for the earlier video –