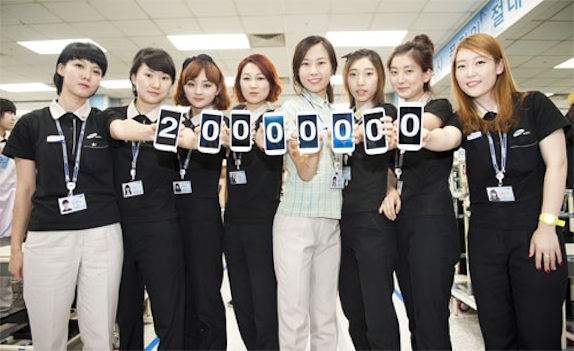 Samsung has just issued a press release saying that sales of the Galaxy S III have surpassed 20 million units. The South Korean handset maker managed to hit this goal in just 100 days. They say that's 6x faster than the original Galaxy S, and 3x faster than the Galaxy S II. The company even breaks things down by territory: 6 million units in Europe, 4.5 million in Asia, 4 million in North America, and finally 2.5 million in the country that they call home. We know that doesn't add up to 20 million, but bear with us, there are other territories out there.
Now to put this 20 million figure into some perspective, 100 days is 10 days more than a quarter of the year. During the second quarter of 2012, Samsung sold over 52 million smartphones according to Juniper Research. Nokia, during the same quarter, shipped 10.2 million smartphones, of which 4 million were Lumia devices. Nokia also said that Lumia sales hit 7 million "to date" when publishing their Q2 data in mid-July. Considering that the Lumia hit the market in mid-November, that translates to less than one million Lumia sales per month. 20 million Galaxy S III units in 100 days is roughly 6 million units a month. That's one phone versus Nokia's current portfolio of four Lumia models. Impressive? You bet!
So what's next? Well, the Note II was shown off last month and it's expected to hit the market at some point in October. Without getting into all the details, think of the Note II as a Galaxy S III with a 5.5 inch screen and a stylus. There's also Samsung's Windows Phone 8 device, the ATIV S, though we don't think that's going to contribute much, if anything, to the company's bottom line.
Reminder: Next week we're going to see the new iPhone, on the 19th we're going to see HTC's new phones, and there's a high probability that Google will show off new Nexus devices at some point between now and the end of the year.