Home » Android, News, NFC, Samsung, USA
Samsung TecTiles Programmable NFC Tags launched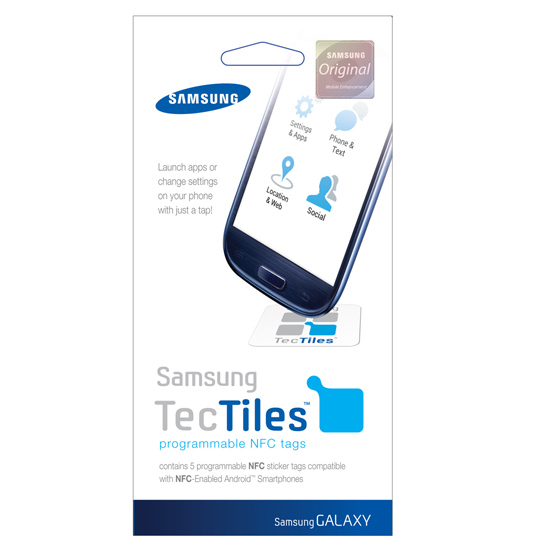 Samsung has launched TecTiles Programmable NFC Tags that can be customized to launch apps, send text messages, share contact information, change phone settings, send text messages automatically and more, with NFC-enabled Galaxy smartphones. Sony already launched Smart Tags, their own programmable NFC tags along with the Xperia S and the other NXT series of smartphones.
You can even use the app to change phone settings or combine settings to optimize your phone for your location – at home, at work, in the car, or other places. Start a Google Talk conversation with the Google Talk user that you choose. Perform a Foursquare or Facebook places Check In in a venue you choose, Update Facebook Status, Tweet a Status, Follow a Twitter User, Connect on LinkedIn and more.
You can order TecTile online (US only) for $14.99  which has 5 TecTile programmable NFC sticker tags. You can create a TecTile using the TecTile app. After creating one, you can tap your phone to the TecTile to perform the action stored in the TecTile.