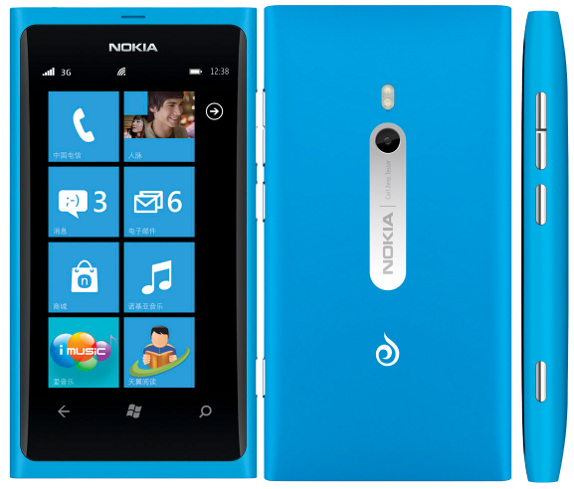 China Telecom and Nokia has announced Nokia 800C, the first CDMA Windows Phone in China. Other features are similar to the Global version of the phone including  3.7″ AMOLED ClearBlack curved touchscreen display, 1.4 GHz processor, 8MP camera with Carl Zeiss optics, HD video playback, 16GB of internal memory. Other than the Nokia Maps, Nokia Drive and Nokia Music, it has some exclusive apps in the Windows Phone Market Place such as integrated music, games, cartoon, video,  free magazines from Trends, and reading apps. Games such as Fruit Ninja and PVZ would be available soon from the Marketplace for free.
The Nokia 800C will be available in black and cyan in early April for 3599 Chinese yuan (~US$ 570) without contract through Tianyi FlyYoung shops, Nokia brand stores including Suning, Gome, Funtalk, D.Phone, and CentreYou, as well as regional channels and online shops such as 189.cn and hicdma.com.
The Nokia 610C, CDMA variant of Nokia Lumia 610 would be available in China in Q2 2012.