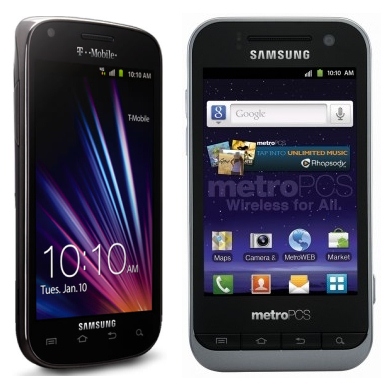 Samsung and T-Mobile has unveiled the Galaxy S Blaze 4G that would offer upto 42 Mbps data speeds on HSPA+. It would come with Qualcomm Snapdragon S3 processor with 1.5 GHz dual core CPU,  Super AMOLED touch screen display and pre-loaded entertainment apps. Samsung Galaxy Attain 4G is a mid range phone that would be available for MetroPCS. It features a 3.5-inch display, 1GHz processor and runs Android 2.3 (Gingerbread).
It would also come with  3MP rear camera with LED flash, a 1.3MP front-facing camera . It also has MetroSTUDIO with multimedia content, including Video On Demand, providing instant access to the latest TV shows, news, sports and entertainment for $60 plan. They have also added Disney/ABC Television Group and ESPN to MetroSTUDIO.
The Samsung Galaxy S Blaze 4G is expected to be available later this year on T-Mobile. The Galaxy Attain 4G will be available for $199 plus tax, after a $50 mail-in rebate from local MetroPCS store and online for a limited time.