Home » apps, iPad, Software
Skitch now available for iPad, coming soon to iPhone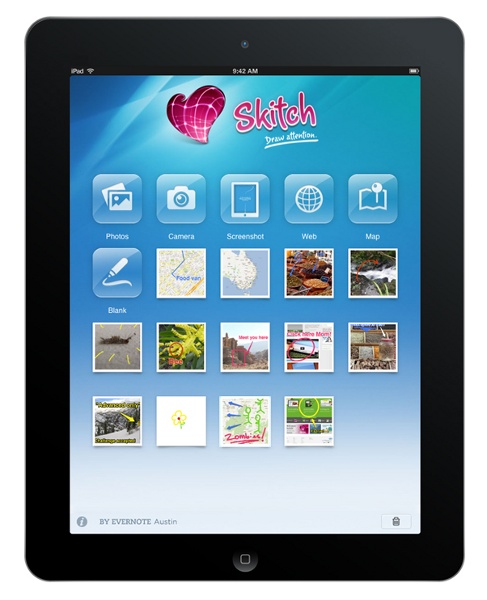 Evernote has launched their Skitch app for iPad. They launched the app for Android in August. Skitch lets you annotate and draw on photo, a webpage, screenshot, map, or just a blank canvas. You can share it later or save it all to Evernote.
Features of Skitch for iPad
Choose to work on an existing image from your camera roll, take a screenshot or capture a new photo with your iPad's camera from the Skitch and annotate
Tap the Web icon to go to a URL or type in a search and tap on the Snap icon and choose the image of the webpage to annotate.
Pinch and zoom into the map and use Skitch tools to draw on a Map
Select different options like pen and a range of colors along with the thickness you need
Use different colored arrows or choose different shapes like box, circle or line
Share the image with others over Twitter, Facebook and email
All the drawing and annotations are saved in the Skitch for iPad app but you can save then to Evenote by tapping on the elephant icon. Download Skitch for iPad from the Apple iTunes Store for free. It would be available for iPhone soon.