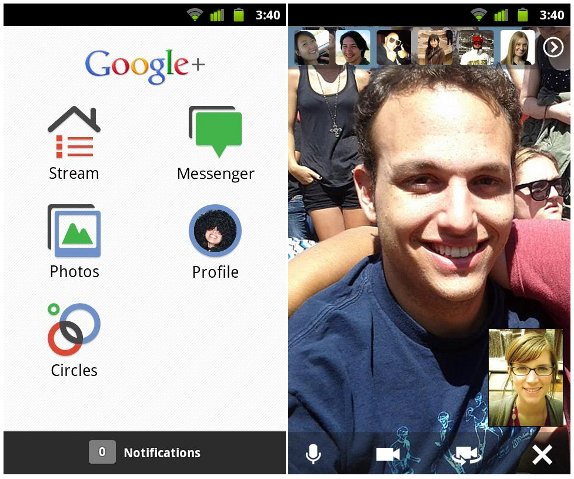 Google+ for Android has got a major update to version 1.0.7, that brings the Hangout to the Android phones (Android 2.3+ and front-facing camera) that lets you join a hangout on the Google+ stream. Huddle is now renamed as Messenger. This also brings move to SD card support and lots of improvements.
New Features in Google+ v1.0.7 for Android
Join hangouts from the mobile app just by entering into an active hangout in your stream
Set profile photo from the app just by clicking edit on your profile
Share photos in Messenger
Long press on posts in stream to +1, share and mute
Improvements in the video playback and public search for people
More options in the push notification settings for posts, mentions and photos
Move app to your SD card
This version also brings Reliability improvements in Messenger and improvements in +mention support. Other than these, US and Indian users can now post to Google+, receive notifications, and respond to group messages via SMS just by verifying the mobile number in the Google+ settings.
Download the Google+ for Android from the Android Market (Android 2.1 and up) for free. Hangout feature for Google+ app for iPhone would be available soon.
Update: The Hangout feature and photo sharing option in Messenger for Google+ for iPhone is now available in the latest update (v 1.0.4.2326). Download it from the Apple iTunes Store (iOS 4.0 or later).