Home » Android, Handsets, Previews, Sony Ericsson
Sony Ericsson XPERIA Mini and Mini Pro hands-on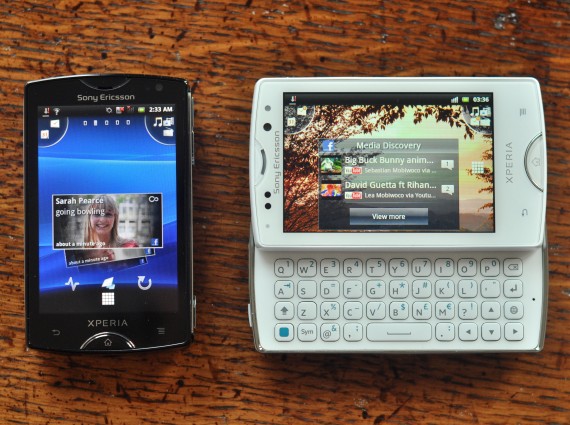 Sony Ericsson today announced the XPERIA Mini and Mini Pro, successors to the XPERIA X10 Mini and X10 Mini Pro. I was at the London press conference where I had some hands-on time with the devices. No price or availability has been announced yet, but they are due to arrive August of this year.
Both of these smartphones are powered by a 1 GHz Qualcomm Snapdragon processor, the same processor powering its flagship XPERIA Arc phones and will run on the latest Android 2.3 Gingerbread operating system. The phones features a 3″ screen with HVGA resolution (480 x 320) powered by Sony's Mobile BRAVIA Engine and is capable of 720p video recording. The Mini Pro will also feature a front camera and four-row slide-out keyboard.
I found both the XPERIA Mini and Mini Pro to be rather cute. They are rather thick, but despite that both are comfortable to hold and use. The screen is delightfully responsive and the 3″ screen did not feel as cramped as on the old X10 Mini variants. The HVGA resolution ensures that the screen is sharp. The Mini Pro's keyboard is a joy to use. The width of the keyboard is similar to that of a typical candybar QWERTY smartphone (e.g. Blackberry). Both devices are fast to operate thanks to the fast single core 1 GHz Snapdragon processor having only to power a HVGA display. The homescreen UI is similar to the one that came with the XPERIA X10 Mini.
The XPERIA Mini and Mini Pro will also feature a new Facebook integration allowing users to enjoy Facebook features without using a client. If you are tagged in a picture, the picture will be automatically be available from the Gallery application. Similarly all your Facebook photo albums will also be one-tap away. A 'like' button in the music player will allow you to share tracks. Despite all these, Sony Ericsson were keen to stress out that they are not called 'Facebook phones' and integrations are also being planned for other social media services like Foursquare and Twitter. These integrations will also be made available as an OTA update for Sony Ericsson other XPERIA phones.